How to Sell My Organic Products From Home? [Online Business Guide]
Posted on February 20, 2022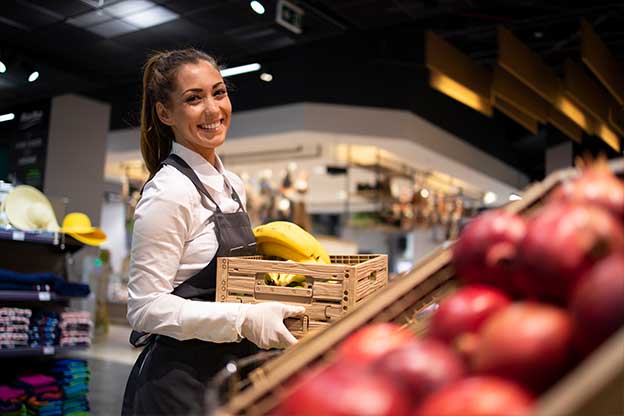 Are you in the business of supplying and distributing organic food? Are you ready to deliver food products from your farm? You may come with the idea to expand the marketing of your organic products. In this way, you deliver your top-quality organic, natural, and healthy food across your local by creating an online e-commerce website.

You may either be into a family-run food business, or you may start your home-based business of selling with the minimum resources. You will proceed to transform your marketing into an incredibly ever-successful. Owning an e-commerce website will be an exciting move into a much larger and profit-gaining vocation.

So, start to sell your organic products online to put an end to a makeshift shed!

What is the organic online supermarket?
Because of the rapid increase of technology, our eating habits have changed. Today, supermarkets are fully packed with unnatural and processed foods. They have many preservatives, chemical flavors, and colors that are hazardous to our health.

The organic online supermarket is a truly life-changing mechanism!

An organic online supermarket consists of all-natural nutrients. Organic products are stuffed with healthy and fresh ingredients. Organic foods are produced from organic farms. In an organic online supermarket, you sell everything such as fresh fruits, fresh-cut vegetables, fresh meat and fish, dairy and eggs, organic and unhomogenized drinks, organic bakery, etc.

What is the free natural grocery online store builder?
You can start selling if you are an organic item producer, distributor, and dealer. Herewith, you can set up your customizable natural grocery online store. By creating your organic food website, not only you will sell better, but you can increase the culture of using organic productions due to their sustainability and health protectiveness.

There are many free store builder platforms. These platforms are extremely scalable and beginner-friendly. They are best suited to grow your business fast and large. The most popular store builders that you may like to benefit from creating your natural grocery online store includes:

Selldone

BigCommerce


Squarespace


Wix

Shopify


Americommerce


Square online

In your online store, you will show your natural grocery catalog, shopping services, shopping carts, and booking. Moreover, you can include your delivery information on the e-commerce website.

How can you sell your organic products from home?
The benefit of selling online is that you do not need a real and physical marketplace. You can sell from your home; then, do the delivery. Selling your organic products online is easier. You can create your e-commerce website and handle the third party also.

You can set up a store on one of the above-mentioned platforms.
You may wish to become an online affiliate of one of the companies.
You would like to sell your organic production.
You are highly recommended to make videos and photography of your farm, garden, and products.
You can list your products either on your website or other online marketplaces like Amazon.
You can also advertise your organic products through social media platforms like Facebook, Instagram, Tik Tok, and the rest.
What are the benefits of getting your organic food online store?
Increases your online visibility


Customers buy in more convenience


More flexible sales events


Increasing the headaches of customer-facing


Easy integration with analytics


More products updates


More offering campaigns


Organizing your catalog


24/7 opening hours


Access to reputation report


Geographically unlimited


More optimized services


Access to the customer history purchase


Better customer retention


Revenue growth

Why do customers prefer to consume organic food today?
The eating style of people has changed today. Many more people value their health. They eat more vegetables and even try to substitute organic food instead of using inorganic food. The truth is that foods that grow organically are safer, less poisonous, and more nutritious. Hereby, the reasons that people go for an organic diet include the following:

Fewer chemical toxins


Fewer pesticides


More healthy


Less artificial fertilizer


Safe in quantity


Absence of synthetic hormones


Eliminates the risks of cancer


Restricts the harm to vulnerable groups like children and pregnant women


Cheaper in price


Lower the risk of certain diseases


Absence of additives


Gluten-free food

What is the future of organic farming?

Growing organic food is a suitable method to protect nature. It promotes the culture of environmental consciousness. Assigned as an environmentally friendly method, it lowers the risk of using pesticides.

It has shown that organic farming increases the long–term sustainability. In this way, we the human beings value the importance of the earth's resources. Organic agriculture promotes sustaining these resources. There will be less concerning pollution in soil and water supplies.

On the other hand, people realize that purchasing organic food items will enhance the importance of Planet protection and raise awareness for organic farming. Producing organic foods is a good strategy to save future farming. It helps us to tackle the ecological crisis and climate change.

Final Note
Organic foods let us live healthier and safer. Artificial colors and flavors are absent in naturally grown foods and groceries. All-natural groceries are cheaper and less harmful to nature. You can start selling your organic productions online to both spreads the culture of using and producing them and protecting the Earth.
Make Your Business Online By The Best No—Technical Solution In The Market.
30 Day Money-Back Guarantee
Say goodbye to your low online sales rate!
I am sensitive to your eating habits. What should I do?
Organic foods are useful for every group of ages especially those vulnerable people like children and pregnant women.
What are the top organic website builders?
They are a lot. You may like to benefit from the one which suits your brand and requirements the best. They include Wix, Shopify, Selldone, BigCommerce, and so on.
What Should I do if I want to sell my Organic products online?
First, you are suggested to create your online store. Second, work on your content and blogs. Third, manage your social media channels.
What should I notice while buying organic foods?
It is necessary to pay attention to the standards of organic labeling.