Best Free No-Code App Builder for Small and Medium Businesses
Posted on January 15, 2022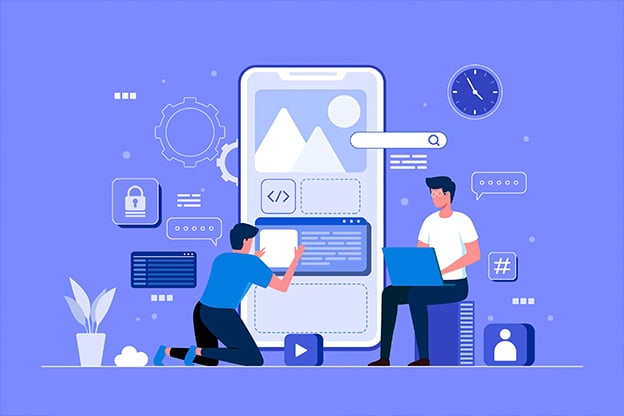 After the lockdown, a lot of businesses had to close and some even went bankrupt. While some businesses were generating debt and kept losing revenue, online businesses like online shops were making money every day and creating new revenues each day.

Nowadays online businesses are very popular and more business owners are creating their own apps or websites and bringing their businesses on the Internet.

Moving your business to the Internet and making it online is the "go-to" plan nowadays. Making your business online needs a website or an app which building them may be expensive, especially if you're going to build a nice-looking website using code, you need to pay the coder, the SEO specialist, designer, etc. Either if you're only creating an app to put your business idea to test or you're a business owner who wants to bring their business to the online world, paying that much may sound unnecessary.

Can I create an app without knowing how to code?
If you are a programmer and you know how to code, you can build your own website using code. Coding your own website costs no money but it requires your time to design a website, write the code, debugging, etc. If you're a coder and have that kind of time, you can start creating your own website.

But if you are not a programmer and still want to create your website on your own, you can use an app builder. An app builder is a platform that allows you to create apps and design user interfaces using visual controllers which require no coding knowledge or experience.

How do I make a free app without code?
To create your app using app builders there are some steps you need to take:

Choosing the template for the app

Customization and branding your app

Creating content for your app
Choosing the template for the app
The first step is choosing the template for your app. You need to pick out a template that suits and brings out the best qualities of your business or online shop. Whether it should have a minimal look to it or not, what colors should be used in your template, etc?

To choose the best template for your app, you need to do market research to find out the needs and preferences of your customers. By knowing the type of design you need for your app, you can design the best app for your business that looks good and is preferred by your kind of customer. For example, your customers may prefer a minimalist look that doesn't include any crowded designs and the margin between objects is more than usual. The best course of action for you would be doing deep market research to understand your customers fully before designing, as it gives you a clear road map of what to do.
Customizing and branding your app
The other step is for you to brand your app. After you have chosen the right type of design and look you need for your application, you need to do branding on your design and make your app unique.

Branding your app makes you stand out from competitors and other businesses. Good branding can make you memorable and is the difference between you and your competitors. Branding your app means you're customizing it in a way that represents your business. Choosing and sticking to a certain set of colors for the template, a certain set of fonts, and the whole design of your app represents your brand.
Creating content for your app
After you have designed and branded your application, you need to have some content ready for the app.

The market research you do before writing the contents or having someone to write it for you, helps you understand the needs of your customers and defines what is important to be broadcast. The contents you use in your app can be tutorials, news, or even an article explaining the purpose of your business and the ways you help your customers to live a better life, the impact you have or want to create in the world. In other words, your story and your value.

After you've taken these steps you can start getting ready to launch your application and take your business online. The hard work is almost done and the good parts are about to begin.

Is creating an app expensive?
Building an app can be expensive, depending on the route you take to create the app. If you choose to hire a UI/UX designer to design the template of your app and hire a coder to do the coding, yes it can be an expensive thing to do.

If you choose to use an app builder platform that already has professional well-crafted designs and instead of coding has a set of visual controllers that can be done by anyone, no it's not expensive.

In fact, the major costs of building an app using app builders are the money you pay to use the app builder platform. Instead of paying a professional coder to build the app (which can cost a lot), you only pay and use a platform to use its pre-coded services and tools. If the app builder offers a good design, the money you pay to use the app is money well spent. The free app builder platforms are the no-money option. Some platforms are absolutely free to use and create an app, while some may need payment on various options.

But if the app builder you used to create the app didn't require any payment and was totally free?

Can I create a mobile application without code for free?
Yes, by using free app builders, you can start building your app for free. The app builders that offer well-designed templates, also help you write better content for your app, and choosing the best design for your application can also be free.

Meaning you don't have to spend money to create your app. So if you're a business owner and you want to bring your business online or you have a great business idea, you can start building your application for free and not miss another day on all the opportunities you could have if your business was online.

Let's go over some platforms that allow you to create an app and further grow your business. Some of the app builders are online platforms and some may work on a certain operating system. This goes for the app you want to build as well, some of the app builders may build an app that works on a certain operating system. For example, it may build an app suitable for Android, but you need it for iOS. So keep in mind to pick the right app builder for you.

Now, let's go over some free app builders that require no coding knowledge.
Selldone
Selldone provides a no-code solution for its customers to build professional native and PWA applications. Selldone is completely easy to use and user-friendly, considering the simplicity to use and the luxury of creating the app without knowing how to code, Selldone can be your perfect way to build an app for your business.

Selldone is a free ecommerce platform enabling users who want to build an ecommerce application with a no-code method for their business. Either if you want to create an app and start your business from there, or you currently run a business and want to create an online platform for your customers, you can use selldone. By using Selldone's free app builder platform you're taking another step towards your dream ecommerce business.

Airtable
Airtable is a software platform that offers a flexible database to its users. The goal of the Airtable running team is to help people build the solutions they need to drive innovation and increase agility within their teams. They prove to be certain about their claims as they raise over $170 Million in funding and help 170,000 organizations to run their critical processes and workflows.

What makes Airtable different from the other competitors is its building blocks. At first glance, you may think Airtable is just a spreadsheet but their platform is much better and a lot more powerful. Their builder's block systems allow creators to identify and set relationships between different objects and create views suited for their type of work.

Users like the various options for coordinating, formatting and coloring different tables, and you can set different tabs on projects. This option allows you to separate different pages and better manage the overall project.

Most options are free on the app builder platform but there are also some paid options as well.

AppSheet
The next no-code app builder we're going to cover is AppSheet. AppSheet is an intelligent no-code app-building platform. AppSheet has been trusted by over 200,000 app creators around the world to mention some; Clearlink, Enterprise Holdings, ESPN, Pepsi, Husqvarna, and more.

AppSheet has a very user-friendly platform that makes it easy for creators to build their apps using visual modeling. The platform is a no-code app builder platform but helps the creators who have coding knowledge as well as creators who haven't written a line of code in their entire life.

AppSheet allows creators who don't know how to code to build apps and solutions that define their business needs. AppSheet helps you to build an app that runs smoothly throughout all platforms. The workspace is very easy to use and self-explanatory as well, and users won't get confused while using the platform. The ease of use plays a major role for creators who have no coding experience, and in a matter of a few hours, they can understand how to build their very first app.

Zudy's VINYL
VINYL is Zudy's revolutionary app builder platform. VINYL focuses on data integration and offers solutions and applications that are at the level ready to be used in an enterprise type of quality with the simplicity of no-code in a week. With VINYL you only need a basic understanding of HTML and CSS to start building your powerful application. It's very easy to use and it allows complete user customization with user-facing content while maintaining the backend at the same time as well.

One issue with using VINYL is the steep learning curve for using the more advanced options, as the basic options are included in the LMS and are very well documented, while some of the more advanced options lack documentation. That being said, users were happy about the way the support team of VINYL operated and mentioned that they could always find a fix for your specific problem and help you with the project.

VINYL has a productive user interface for building applications and takes away most of the time-consuming data processing and security management tasks. Thus, creators can focus on their applications and develop fully functioning applications within days.

LandBot
The next platform to create an app with, without any coding knowledge is LandBot. With LandBot you're able to build a conversational experience for your audience using an intuitive drag & drag builder, rich user interface elements, and multi-channel interactions on the web, WhatsApp, and Facebook messenger. Doing this is possible thanks to LandBot, and you don't even need to have any coding knowledge to do so.

The LandBot helps you to create your own chatbot to fill the need for an environment to be responsive towards your audience.

LandBot offers the ability to create a bot suitable for your business. It's easy to use and with a great GUI and set of tools and options you're able to create your own bot to better manage and maintain your business, whether it's building a chatbot or a bot just to fill spreadsheets.

Quickbase
The next app builder is Quickbase. Quickbase is a no-code operational agility platform. The Quickbase platform enables organizations to improve operations through real-time insights and automation across complex processes and disparate systems.

Quickbase's team goal is to help companies achieve operational agility. They help companies to be more responsive to customers, more engaging to employees, and as adaptable as possible to things yet have to come.

Quickbase is a powerful no-code creation platform that helps its customers scale up to enterprise projects and tasks. Quickbase helps users in many ways, managing the workflow or creating an application related to a small business that can be used on a laptop or a mobile. Quickbase offers facilities to integrate with a third-party application through API, and it doesn't require the creator to have any coding knowledge, so all can be done with the simplicity of no code.
Make Your Business Online By The Best No—Code & No—Plugin Solution In The Market.
30 Day Money-Back Guarantee
Say goodbye to your low online sales rate!
Is there a completely free app builder?
Yes, by using a free app builder, anyone can start building an application today.
Can I build an app without coding?
Using an app builder that requires no coding experience makes it possible for people to create an app without coding.
How do beginners code apps?
If a beginner coder wants to create an app, he/she can always use an app builder that requires no-code to make the process of app building faster.
Which is the best free app builder without coding?
Here's a list of the best free app builders without coding in this article that you can read to pick the best app builder for you.
Can I build an app for free?
Nowadays, app building is not just for professional coders who spend years learning how to code. Anyone using a free app builder can start making his/her application for free.