Selldone vs Wix | Migration from Site Builder to eCommerce Platform for SMEs
Posted on August 19, 2021
Since online shopping has become available, the number of online shoppers has been steadily increasing, and Best Shop Builder is trying to do the best for business owners. Today, their number reaches 1.8 million, and according to forecasts for 2021, this number will increase to 2 billion. There is no doubt that the online market is booming, and this attracts online sellers, and Best Shop Builder is doing great.

If you are a seller and intend to open an online store, you will find many eCommerce platforms that will help you do this. If you ask Google for information about companies that offer the best software to create an effective website, Selldone and Wix will be among the first in the results as Best Shop Builder. As a result, most likely you will want to choose between them.
Benefits of eCommerce Platforms – Why should I use
Best Shop Builder

?

What is a site, perhaps, everyone knows? At the same time, not everyone knows the essence of such a concept as "site builder" or "Best Shop Builder." You can draw an analogy with a conventional constructor: using ready-made elements, you create something holistic. A free website builder is a tool with which you can quickly create a web resource without knowing programming knowledge. This is the main advantage of fast online store builders. The essence of the work of designers is to use a set of templates to implement various functions on the site. You can create an online store, a portfolio (for example, for an artist, photographer), a blog (about travel, politics, hobbies) with the free website builder. Using the constructor does not mean that all sites will be twins. As a rule, you are offered several modifications of the same template: the background, the color of the sections of the site, buttons; you can add images.
How convenient is it? We highlight the main advantages of site builders:
Price of Best Shop Builder. Designers are free, but paid ones allow you to create a site many times, and sometimes ten times cheaper than from scratch in the studio. Given the limited budget for sites with simple functionality, this is a godsend.
The speed of creation. It takes several minutes to create a resource using the constructor of Best Shop Builder. Modern services have a clear interface, and all the work is reduced to filling a small number of fields. Without using a constructor, website development can take weeks and months.
Performance of Best Shop Builder. As a rule, designers create sites that are optimized for the sites on which they are located. It provides fast work. This does not always happen, but if you choose large sites that have proven themselves in this area, the effect will be.
Structuring of Best Shop Builder. Blocks are highlighted on the site for clarity of information, and you just need to fill them out without inventing anything, without scrolling through many scenarios of what and where to place it.
Lack of programming. We have already mentioned this. An advanced Internet user can easily complete all forms. Sometimes it's easier and faster than on your own page on a social network—no need to be a programmer or look for one.
Designers are undoubtedly good, but not without flaws. Among the main ones:
Unification of Best Shop Builder. The site is created on the basis of ready-made templates, and often it cannot be unique (remove/rearrange individual blocks). It is possible that sites with the same design already exist on the Internet or will soon appear. If this is an amateur blog, it's okay (probably). If the reputation of the company is at stake, it's worth considering.
The page size of the site. Often site designers generate bulky HTML code. The page size increases from an average of 100 Kb to 1 and even 10 Mb. Its download speed is increasing, and users are not always waiting for this. The conversion is suffering.
Difficulty editing of Best Shop Builder. The HTML code generated by the constructor is oversaturated with tags, styles. It is problematic to edit. Even an experienced programmer will prefer to create a site from scratch, just not to understand all the nuances of the existing one.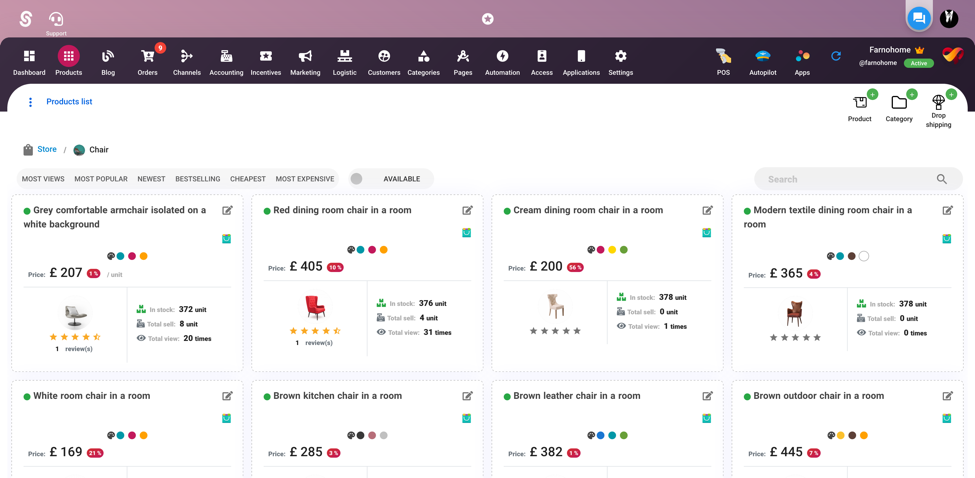 The difficulty of scaling. The site content is "customized" to the template structure. There are fields of a certain length, format. You may encounter a situation where it is not possible to place the information/content that you want to convey to the target audience in the selected field. But if we take into account the speed with which designers develop and improve, we can assume that in the near future, there will no longer be such a drawback.
Payment is monthly for Best Shop Builder. Using a constructor involves binding to a specific site. Over time, it may revise the pricing policy is not in your favor, and you cannot transfer the site to another. Promotion Sites created on the basis of designers have limitations in the possibilities of optimization and promotion. The sites themselves often offer a range of SEO services, but this is not enough for large portals. When working with a promotion agency, you may encounter a situation in which the effectiveness of optimization will be insufficient. This will negatively affect the attendance of the resource, but you should consider free website builders who have a great SEO on their services.
When is it profitable to use a constructor? After weighing all the pros and cons, you can formulate the conditions under which the creation of a site using the designer will be appropriate.
Among them:
urgency




testing a new niche/product




a simple site is not for the purpose of increasing commercial benefits;




Unwillingness to contact developers.



The choice in favor of the site on the CMS is justified in such circumstances:
need a website with a unique design




implemented many functions




planned versatile SEO promotion, involving work with page code




A large project is being created with significant investments and development prospects.



Integrated website promotion with
Best Shop Builder
Integrated promotion - improving the overall visibility of the site in search engines in relevant topics and increasing the number of users to the site from all search engines.
Advantages of

Best Shop Builder

In the modern world, even a small business must have a website on the Internet; otherwise, it becomes uncompetitive. Of course, this does not apply to those people who engage in petty trade.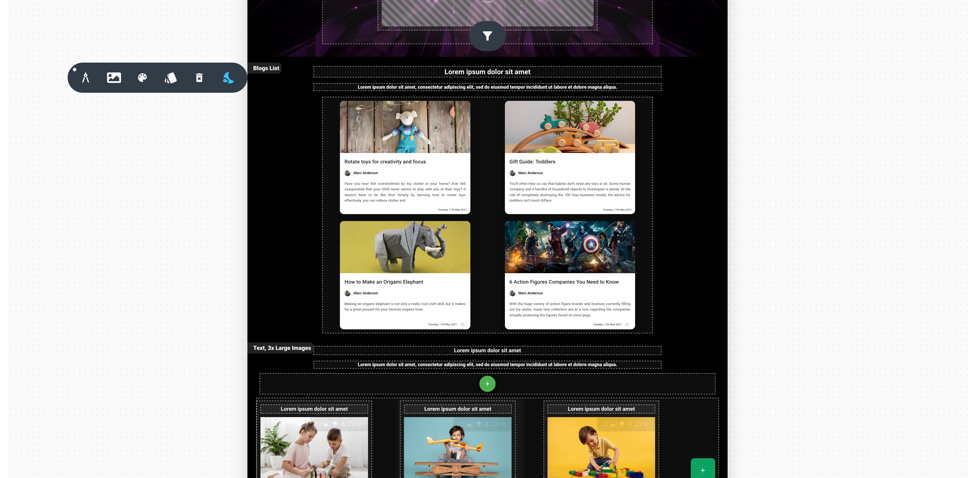 As a result, every day, there are a ton of new sites around the world. Naturally, with so much demand for the creation of sites, the industry of template sites for designers is developing. These sites have pros and cons.
Benefits of

Best Shop Builder

Let's consider several advantages of sites that can be created using designers on the Internet online.

Price. First of all, if you order a template using the constructor, then the price of such a resource will be much lower, sometimes hundreds of times. Using some designers, you can create a website for free and then upload it to the Internet for hosting. Here, designers become simply indispensable helpers.

The speed of creation. When using the designer, a site can be created in a few hours, which cannot be said about regular sites. Often you just need to fill in the required fields in the editor, and after that, you will get your site. Interfaces of modern designer sites are developing on a large scale.

Speed ​​of work. When using online designers, sites are created that are already optimized for the sites on which they are located and, accordingly, they will work quickly, which in principle gives the necessary advantage. But I want to point out that this is not happening at all sites, mainly on large and already established ones in this field.

No-code programming. And of course, the most important point is that to create such a site, you do not need to know either programming languages ​​or markup languages. To use Best Shop Builder, you just need to be a less experienced user.

Since you have to fill out many forms and upload images, in Best Shop Builder, this is even easier to do than in some social networks.

Pre-built site structure in Best Shop Builder. When creating such a resource, you don't have to rack your brains on what and where to place it, since you already have a ready-made structure with examples for which you just need to fill in everything.

Thus, we examined the benefits of online site builders. So, a resource can be created quickly, inexpensively, with an acceptable speed of work and in the absence of a hired programmer with a free website builder.

A good understanding of what Wix and Selldone, as a fast online store builder, can do will ultimately enable you to choose the best option for your business. To achieve this, you need to know the difference in platform features, so let's compare them.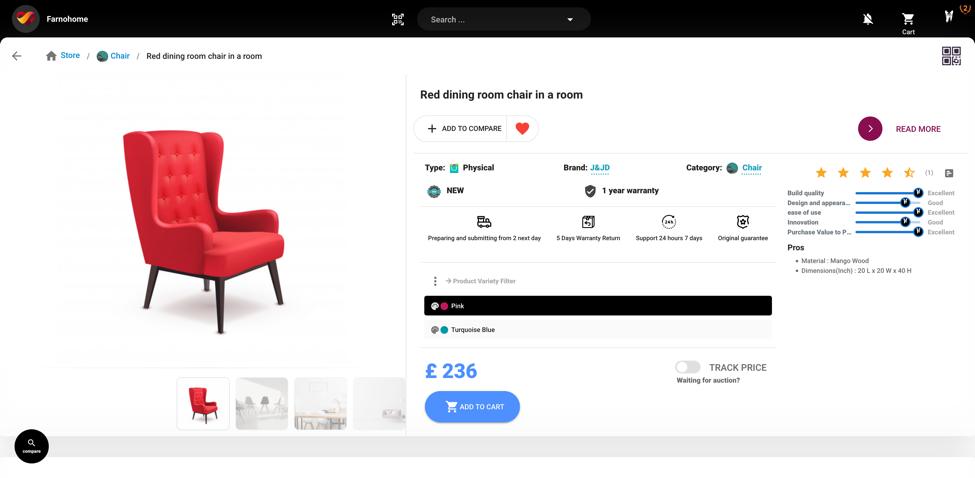 Wix Features
Wix is ​​another eCommerce platform worth considering. It also exists for more than ten years and has helped many traders open online stores. As of July 2018, Wix has reported 110 million users from 190 countries.
These impressive statistics show that Wix is ​​a favorite of users, but what makes it so popular and mark it as one of the Best Shop Builder? Let's look at some of the salient features of this platform.
Anyone can create a website with
Best Shop Builder
Like Selldone as Best Shop Builder, you don't need to know anything about programming or be a web designer to create your own business. Anyone can create their site after registration. You also have the opportunity to be creative as you want with the many templates that come with Wix. Customizing a design is easy because it requires a minimal study of template features.
Support for any business
Wix was created to support any type of online business. It doesn't matter if you want to open a clothing store or an art portfolio. You will find tools that are right for you.
In addition to ensuring the presence of various niches, Wix software also ensures that everything in your store will work properly. If you have an interesting idea of ​​what you can sell on the Internet, Wix will help you.
Support service on
Best Shop Builder
Customer support is a prerequisite for the seller during the selection of the platform on which he plans to open his online store. Wix provides reliable assistance to all of its customers. You can easily contact support if you have a problem of any complexity.
High-quality Wix customer assistance is available from 5:00 AM to 5:00 PM Pacific Standard Time. This feature played an important role in expanding the Wix audience because regular customers recommended this platform to other novice sellers.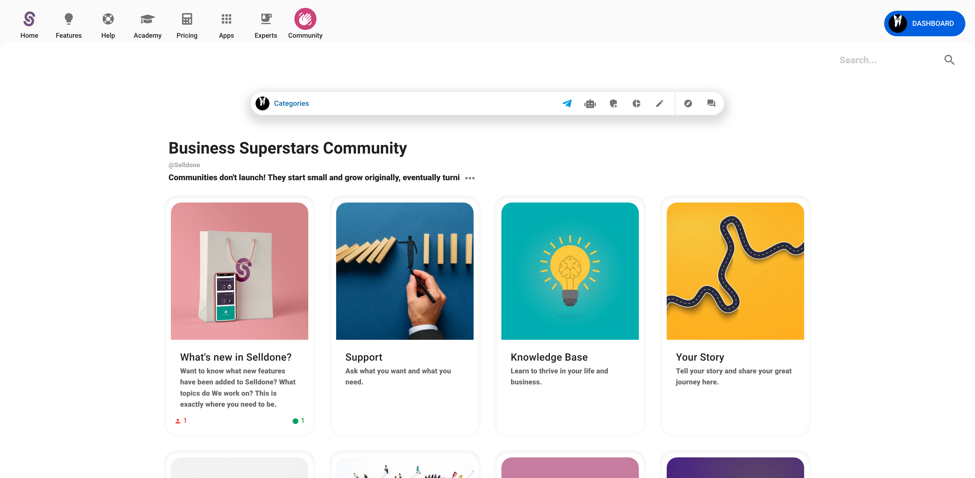 Convenient Website Management for Small Businesses
Imagine that you decided to sell a product that you yourself created, for example, a line of T-shirts. If you want to sell your product to more people, creating an online store is the best choice. As a beginner, you will require a website that is appropriate for a new business or using a Best Shop Builder for it. Wix is ​​one of the platforms for this.
Wix offers all the necessary tools, so managing a store on this platform is easy. You do not need to worry about the details that may arise when running a larger business. This platform empowers you to focus on sales without being distracted by other factors.
Convenient site management
There are certain tools in e-commerce that sellers need in order to succeed. For example, analytics, adaptability, SEO, and impressive design capabilities.
Wix offers all of these features to its merchants, making it easy to manage their business. You can figure out exactly which of your products are ineffective and why. In addition, you can determine which design is trending and use traffic data to improve your overall search ranking using SEO.
Website multilingualism
If your goal is an online store that will be available in several countries - Wix is ​​a good choice. You can easily make your website multilingual in order to increase your customer base and, as a result, your income.
Selldone Features as the
Best Shop Builder
Selldone is a popular worldwide eCommerce company that has been around for over a decade. So what makes Selldone an e-commerce giant? Let's see what Selldone can offer their customers.
Easy domain name retrieval
In order for your online shop to be user-friendly and professional, you need to buy a domain name for it, and you can do it easily on Selldone as a fast online store builder. It will also play a vital role in branding your business. Since you add the name of your store to it, customers can easily identify your company only at the web address.
Getting a domain name with Selldone is easy, and that's why we called it Best Shop Builder. You will have the opportunity to buy it a few minutes after registration. However, it is one for free. However, this is an investment worth making.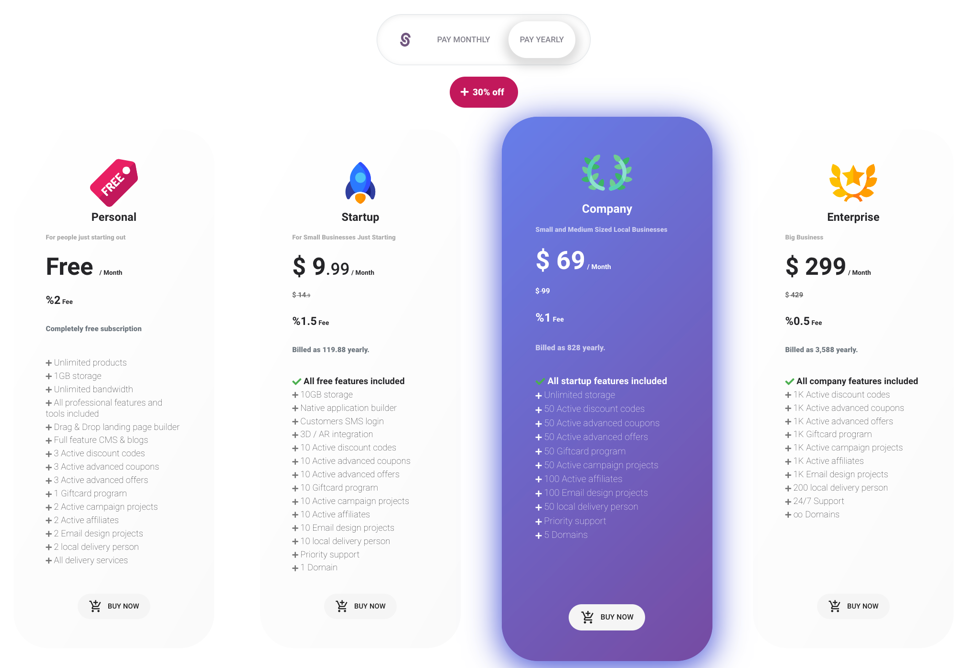 30 days trial period
Selldone guarantees a low level of risk for entrepreneurs who want to open an online store. This is achieved by the fact that you can create a Selldone account for free. This will allow you to personally verify within 30 days that the platform is suitable for your business.
You can get free access to all the necessary functions. Use the trial period to decide which tools you will need to continue working. If you think that, for some reason, this platform does not fit your needs, you can simply delete your account. Selldone as Best Shop Builder will not regret you.
Easy to create an online store
In order to create your own online store on Selldone as a fast online store builder, you do not need to have the skills of a programmer and designer. This platform was created to make your life easier. The programmers have already taken care of the technical part of your site.
Functions such as security and a large selection of design options are already built into the system. You can make changes to the functionality and appearance of your store at any time.
Variety of payment methods
Selldone offers you several payment options. This is a very important feature because you can provide your products and services to a wider audience. When opening a store, you can easily choose a payment method based on your target audience.
PayPal and Selldone Payment are currently the most popular payment methods. The former is accepted in more than 200 countries, while the latter supports credit cards, but it is not so large-scale.
Professional help
Best Shop Builder
Selldone as the Best Shop Builder offers its customers assistance at every stage. It does not matter if you are just starting or already owning a business. If you need the support of the Selldone team, they will respond immediately.
This is a useful feature as you may encounter some marketing difficulties. If you have any problems, by the way, you will have round-the-clock professional help, which is available not only by phone but also in the format of the correspondence.
Amazing and functional built-in tools
It is very important to provide your customers with several important things, such as advanced features and excellent UX design (user interface). If your online store has this, then traffic to your site will increase, and this is one of the benefits of Best Shop Builder. Fortunately, Selldone provides you with these features.
You have a wide selection of website templates to select from. Therefore, most likely, you will find the eye-catching design for your online store. You can also access tools to help you manage your inventory and check sales analytics. In addition, Selldone helps you easily integrate your website with direct delivery.
Comparison of Wix and Selldone
We reviewed some of the best features of Selldone and Wix as the Best Shop Builder. It is fair to say that they are very impressive eCommerce platforms. Unfortunately, you cannot use both. To create your own online store, you need to concentrate on only one. So, in the battle of Selldone versus Wix, which company will benefit in terms of what they offer customers and get the Best Shop Builder's mark?
To find out who is better than Wix or Selldone as the Best Shop Builder, we need to analyze them. After you compare them, you will get a clear idea of ​​what each of them offers, and you can choose a more suitable platform for your business.
Let's spot the differences between Wix and Selldone, highlighting the best of them in seven important categories.
1. Improving sales
When you decide to switch to online sales, your ultimate goal is to get as much traffic as possible and sign up on Best Shop Builder. To do this, you will need the tools that Selldone and Wix will provide you.
These platforms, as the Best Shop Builder and fast online store builder, are designed to help you create a business. The only difference is that Selldone helps novice entrepreneurs grow their businesses. It offers more marketing tools than Wix as a free website builder. These additional features will help you increase sales and help reach a much larger audience.
Wix is ​​designed for smaller businesses, and this can be considered both a plus and a minus of the platform. However, when it comes to increasing sales, you have a better chance with Selldone than with Wix.
Winner: Selldone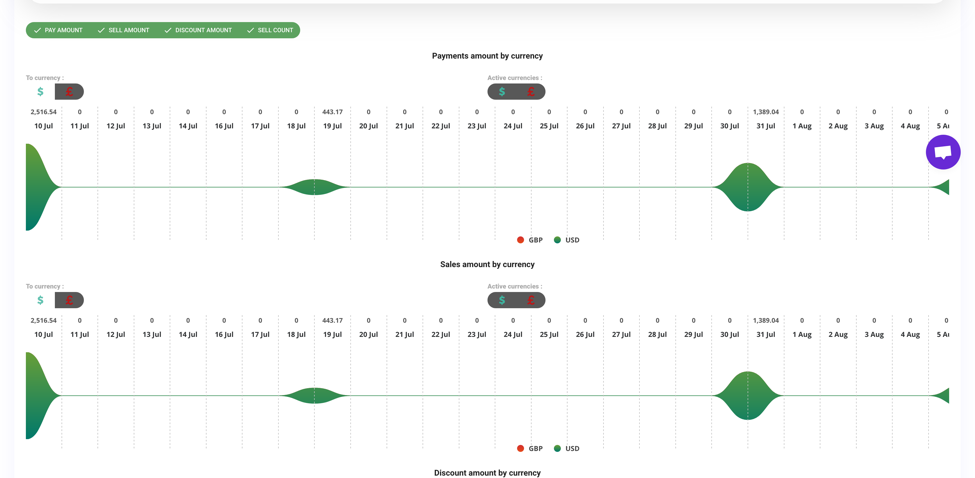 2. Design

of

Best Shop Builder

If the Wix platform was not convenient to use, it would not have become one of the most famous designers. The popularity growth was influenced by several factors:


The versatility of Best Shop Builder - on Wix, you can create a business card, blog, online store, etc.

Simple visual editor. The best description for him is "intuitive." This means that the development of the editor does not require preparation. All elements are simply added, edited, and deleted with the mouse.

Optimization for mobile devices with Best Shop Builder. Templates look equally good on different platforms.

The designer will help you create a site using the Wix ADI smart system. According to the information provided by the user, she offers a layout. You just need to reply to several questions and confirm the correctness of the information that AI will recognize on its own. The resulting layout can be edited like any other template. The difference is that it will initially be created for your company; that is, the number of modifications that need to be made will greatly decrease.

If Wix ADI is a tool for simplifying development, then Wix Code will make the site more functional due to programming skills. After activating Wix Code, an arrow will appear in the editor, clicking on which opens a list of pages. The last three items in the list allow you to add JavaScript code and databases to the website. JavaScript can be used to create your own application and Databases - for collecting user data and generating dynamic pages.

Databases can be applied to any item on Best Shop Builder. Without going into technical details: this will allow, for example, conducting polls, creating dynamic galleries with the output of a random image, displaying different data on the page depending on conditions, adjusting the schedule, etc.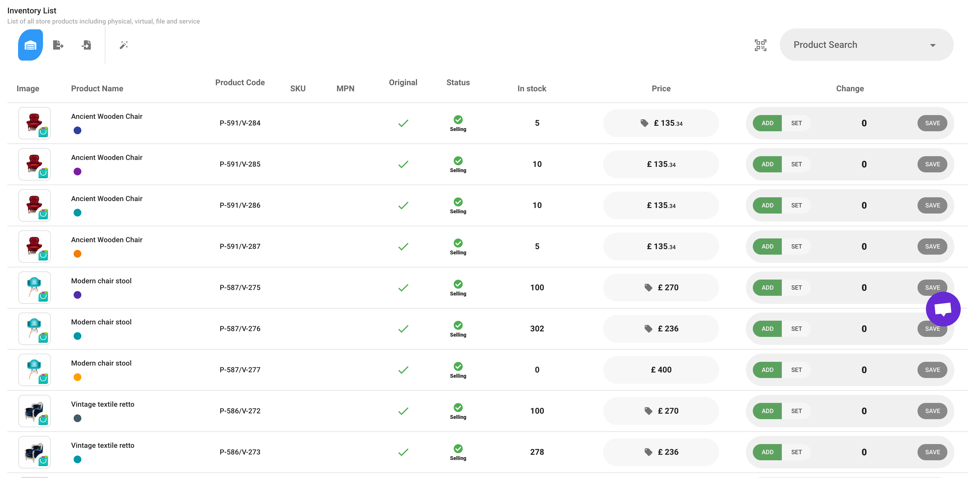 In addition to WIX ADI and Wix Code, there is a standard constructor editor, thanks to which it was widely used among users in its time. It consists of several tabs:
"Menus and Pages" - a section for managing the main menu of the site and its structure. Here you create new pages, fill in Meta tags for search promotion, add links to sections in the menu.
"Background" - fill with color, add a photo, video, or cinema graph to the background of a single page or the entire site.
"Add" is a Wix widget library that contains a huge number of interface elements.
Wix App Market is an integrated app store. In it, you will find solutions for integrating functionality from third-party services on the site. Applications for organizing online sales, communication with customers, search engine optimization - everything is in one click from the connection.
"My Downloads" is a file explorer with the files you uploaded to Wix: photos, videos. Supports adding both from a computer and from virtual platforms - for example, Instagram, Facebook, Google Drive, and Google Photos.
Depending on the type of site, modules for managing a blog and an online store may also be presented in a panel in the editor. They contain all the necessary tools for working with the relevant sections.
The constructor supports teamwork. You can add new users via email and grant them access rights. This will help to efficiently distribute responsibilities between different employees if, for example, you create a large online store.
Free connection of SSL-certificate to the domain
Mobile application for Android and iOS, which allows you to communicate with customers, add products, photos, and materials to the blog, and it's available on Selldone as the Best Shop Builder.
Password protection of individual pages of the site or hiding them from public access. This is useful if, for example, you are building a subscription model for accessing content.
A marking grid that allows you to constantly see the area of ​​the interface that will be displayed in the mobile version of the site. Layers in the editor that you can add hide and swap.
The basic functionality of the designer is greatly expanded through applications from the Wix App Market. They offer a different set of capabilities: some solve only narrow tasks like adding social media buttons, others are entire modules with a lot of settings. The availability of applications makes Wix a truly universal designer.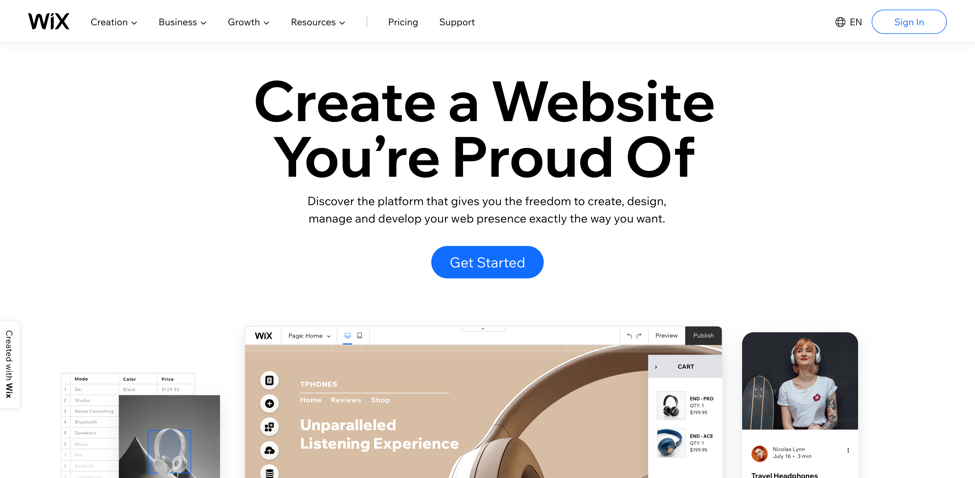 With their help, you can create a landing page with forms for collecting user data, a hotel website with the possibility of online recording, a store with a powerful recommendation system, etc. Wix is ​​a bit more complicated than unite, but it offers more features. Setting up a site also takes longer. As a reward for his efforts, the webmaster receives his own resource, which looks quite professional. Since design is a very important aspect of e-commerce, we must look at the quality that both Selldone and Wix provide. In this category, they focus on various types of niches. There are a lot of Selldone templates, and all of them are well designed and created to increase sales. It should be noted that these themes can be tailored to your requirements. Also, for different devices, selldone templates are optimized. The only weakness is that it is not free. Wix is ​​primarily intended for small online stores. There are fewer templates on this platform than on Selldone. But if we leave the quantity aside and look at the quality, the topics available will be very impressive. They are free, but they cannot be configured, and they do not adapt to the size of the device.
Winner: Both
3. Simplicity with
Best Shop Builder
When it comes to hand-crafting your own online store, it is very important to choose a platform that will allow you to create a website without using complicated settings.
Selldone is a favorite among entrepreneurs, thanks to its simple startup process. This platform also provides links to online videos in case users have trouble opening a store. You can build your desired website in a matter of minutes. Then you will need a few more hours for more complex settings.
Despite how easy and quick the way Selldone is set up, Wix is ​​the easiest solution. You will find not only step-by-step instructions for creating your website but also get high-quality instructional videos. The Wix interface has an additional tool called Wix ADI, which uses artificial intelligence to help users quickly deploy a template to the site.
Winner: Selldone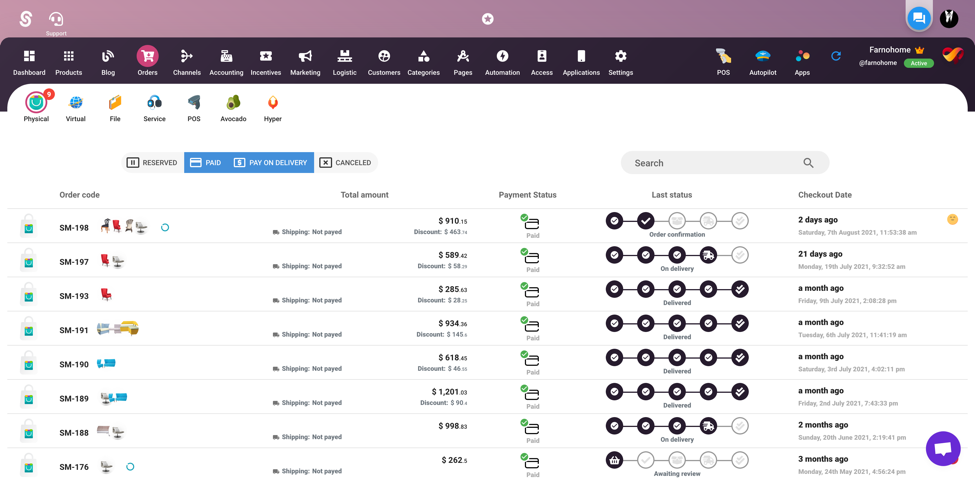 4.

Best Shop Builder

SEO

SEO is one of the key features of any online business. So, how do users rate Selldone and Wix when it comes to SEO? These platforms are known for their easy-to-use search engine optimization techniques.

Both Selldone and Wix can help sellers make changes to the names of their pages that appear in Google search results, and that's why we called them Best Shop Builder. In addition, they can make adjustments to metadata, headings, and descriptions. You also have the ability to track all the mentions of your business on social networks using the Facebook pixel.

Selldone and Wix have a common flaw - they do not work well with setting the URL.

Winner: Selldone
5. Customer support with
Best Shop Builder
Both Selldone and Wix provide reliable customer support. However, the support service of the first platform is slightly better than the second.
First of all, Selldone offers several channels through which you can contact support. These include voice calls, chat, and email. In addition, they created informative textbooks that describe solutions to most problems. There is also a large forum in which its active participants will always help you. There is also a blog with instructions on how to solve common difficulties.
There are not as many user support channels in Wix functionality as there are in Selldone as the Best Shop Builder. In fact, you can only access customer help by phone. Another disadvantage of Wix is ​​that their call center is not working around the clock.
Winner: Selldone
6. Payment Methods
Selldone as the Best Shop Builder offers numerous payment methods for its customers around the world. Although he definitely has more payment options for users, he shares with Wix the most popular ones, such as PayPal and Stripe.
Selldone already supports many payment methods, such as Paypal and Stripe, but it also has its own payment option. Selldone Payment allows customers to earn money with a credit card. The only problem with it is that it is not accepted in many countries, unlike PayPal.
As a seller, you should also pay attention to other information, for example, how your customers feel more comfortable when making payments and whether you need to make changes to payment methods. Considering this, if you have a small business that doesn't need several payment methods, Wix will be more suitable for you.
Winner: Selldone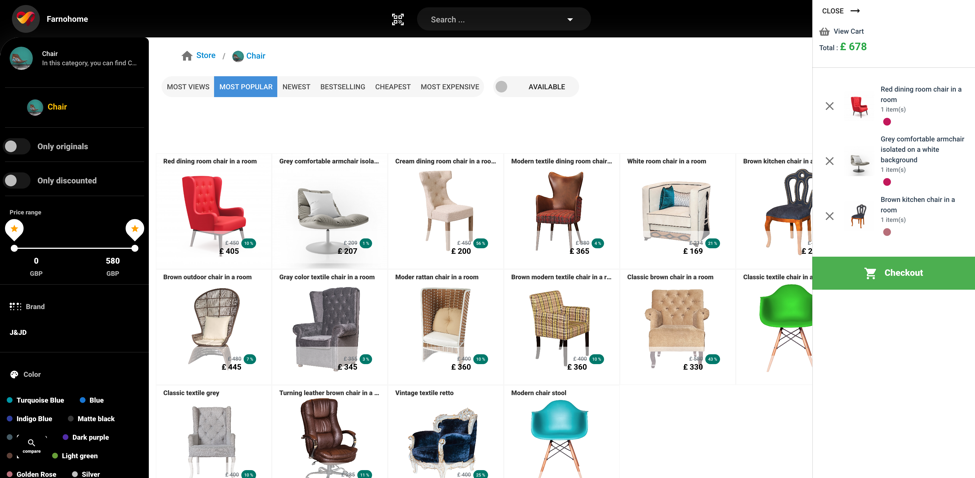 7. Summary
This comparison is a little controversial because it depends on the value and the goals of your online store. For example, if you want to develop your internal business and plan to target a small audience, you do not need to invest in a lot of marketing tools, because in the end, you will lose a lot of money.
Otherwise, if you have big goals, you will need more investment. This is the main difference between Wix and Selldone as Best Shop Builder.
Wix is ​​designed to help you start a small business without the next development. Selldone is committed to helping you launch and grows your online store as much as possible.
Given these features, using Selldone will bring you more benefits. Also, if we consider the ratio between the amount that you invest in your business and that the Otori comes after-sales with Selldone, you will get more revenue.
We must also mention the cost of using platforms. Wix and Selldone offer free setup of the first online store. However, in order to get more advanced features, you will have to pay for a monthly plan.
The basic Wix plan will cost you $ 4.50 to $ 16.50 per month and $ 24.50 per month for VIP. If you want to get a site without ads, the platform will charge you $ 120 per year.
Selldone fees start at $ 0 per month for a free account. A basic plan will cost you $ 9.99 per month, including transaction fees. The maximum cost for the highest tariff plan is $ 299 per month.
By analyzing Selldone's "battle" against Wix, we recognize that both platforms can offer many effective tools to their customers as the Best Shop Builder. Selldone provides more payment options and marketing opportunities than Wix. This platform is, therefore, the best one to increase sales. Wix, in turn, has the advantage of simplicity. Lightweight and free design attract more novice sellers who do not pay enough attention to the interface. In this category, Wix is ​​clearly the leader over Selldone. If you add all the pros and cons, Selldone wins as the Best Shop Builder, but this does not mean that Wix is ​​a poor eCommerce platform. All of them are excellent, depending on the goals that you want to achieve.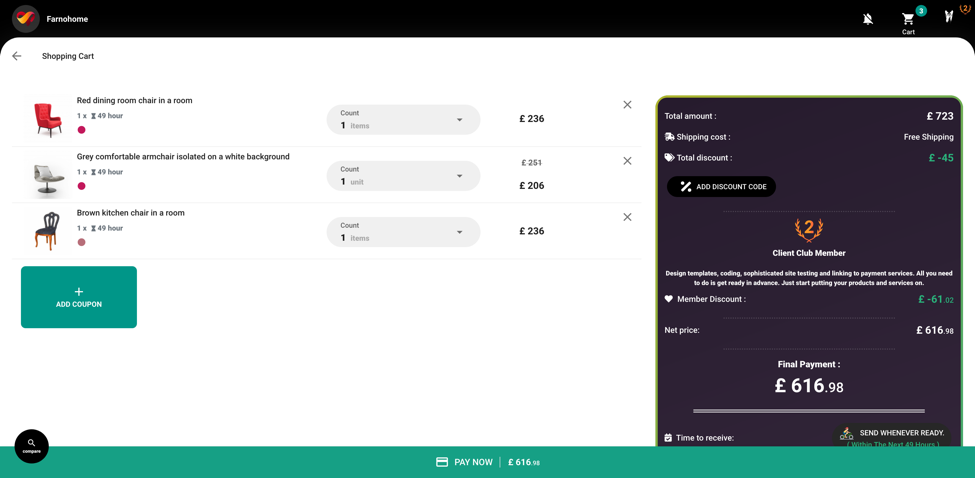 When deciding to go online, make sure that you have a clear goal of what you want to achieve. If you plan to create a store for a small audience, Wix is ​​the right choice. However, if you are thinking about more and want to grow your business, choose Selldone as the Best Shop Builder, as it is a more profitable and functional platform that is designed to help you. An impressive number of marketing functions and plugins will help you achieve the international recognition that is necessary for success.

Hearing More about Selldone Services
Templates are the pride of Selldone. There are many layouts for different types of sites made by professionals, inserting videos on the background of the page, 3D effects, own photo bank, and image editor. Only those who genuinely hate Wix and basically do not want to admit that this constructor really allows you to create a great site, as written on its main page, can find fault with the external execution. The only drawback is that the template cannot be replaced while working on the site, so you need to choose a theme very carefully. This contributes to a full-fledged preview mode, which allows you to evaluate the layout from all sides before making a decision about creating a site based on it.

All templates are available for free on the Best Shop Builder, and their database is constantly updated. There is no problem with adaptability for different devices: the site is equally well displayed on a widescreen screen and mobile phone display. The mobile version of the site is configured separately from the desktop. You can use automatic optimization or pin items to the page manually. You can monitor how the content will be displayed on the screen of the mobile device when editing the desktop version: the borders of the screen are indicated by dashed lines.
In Wix, You can change the design beyond recognition by adding widgets, horizontal stripes with any content, inserting HTML code, and fixing useful elements on the page. Customization of the site's appearance has received great attention, so that in addition to standard features like changing the color scheme or background.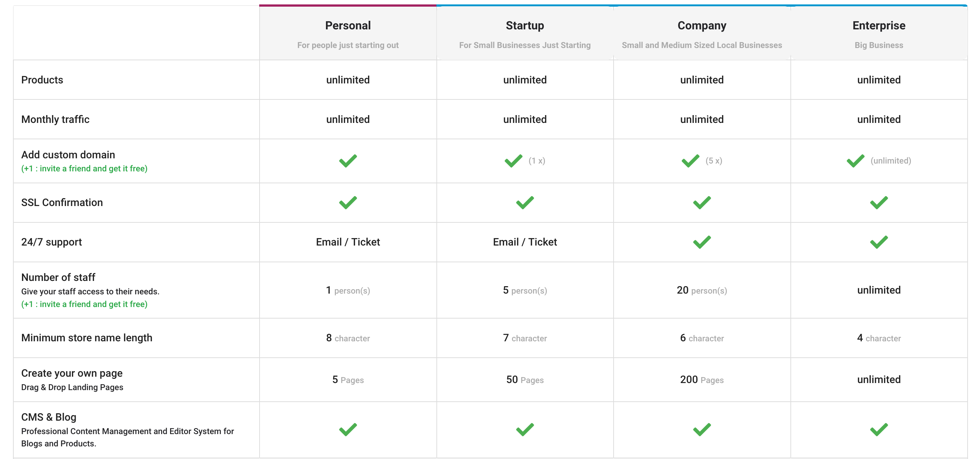 In Selldone as the Best Shop Builder, you will also find advanced options:
Connecting your own fonts if the standard set is enough.




Customize animations and effects.




Page layout - control of borders of elements, indents, positioning of content.



Another feature of the Wix editor is the addition of cinemagraphs. These are photographs in which one or more elements move, a cross between a static image, a gif, and a video. Cinemagraphs are now very popular in web design. Wix has its own library of such elements. You can add them as separate pictures or put them as the background of the page.
Each element on the page has its own settings on the Best Shop Builder, which allow you to make it display individually. All this is implemented through an easy-to-understand interface, for the management of which programming skills are not required. What is done on CMS through code editing and tied to knowledge of HTML, CSS, and JavaScript on Selldone are performed using sliders and selectors? There are even hotkeys for popular features. In general, if you worked with graphic editors like Photoshop, then immediately appreciate the convenience and power of the Selldone visual editor. The designer also offers a built-in logo editor that allows you to quickly create an attractive logo. For its use, you need to pay in excess of the tariff, but the price is justified by the ease of use and quality.
If you believe you lack the necessary skills to create a one-of-a-kind appearance but don't have the time to learn, you can reach out to designers via the Selldone platform. This community is organized on the basis of the Selldone expert service, the task of which is to select artists to work on projects in the Selldone environment, and this is one of the reasons users marked Selldone as the Best Shop Builder. You can choose designers based on their portfolio and apply to them with a job offer or fill out a questionnaire, based on which the system will automatically select suitable performers.
Search Engine Optimization (SEO)
Selldone Designer as the Best Shop Builder designer allows you to create sites that are initially quite friendly to the search engines. But in order to achieve high positions, you need to work a little: set Meta tags, check the adaptability of the template, and add unique texts on Best Shop Builder.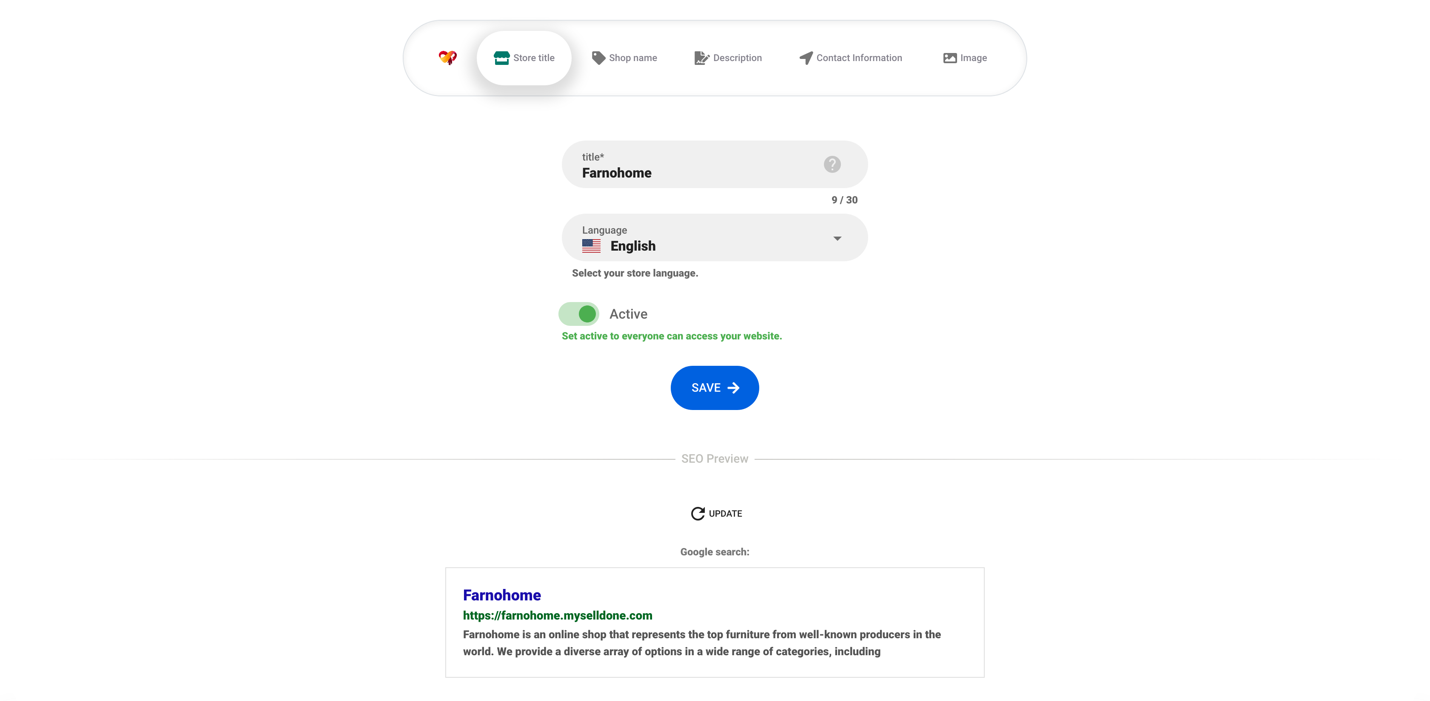 A novice webmaster will easily get confused by the abundance of requirements that search engines make, but Selldone seems to have solved this problem. The designer's control panel has a tool for setting SEO parameters of the site, which is presented in the form of a step-by-step wizard. To get recommendations on website optimization, you need to go through 3 steps:
Enter the name of the brand for which the site is being created on Best Shop Builder. If you are making a business card, you can simply add a surname or field of activity.




Choose the type of business - with a physical address or only online.




Add up to 5 phrases or keywords that define your line of business. For example, for an online toy store, you can write "toys," "baby food," "baby products." You can pick up words using google keywords services.



After a short check of the site, the wizard will issue a checklist that will indicate what needs to be done to enhance the project. There are three steps in the list: add a site to Google, optimize its pages and continue to improve SEO. But each of the steps contains several points. Here is a sample list of what you have to do to optimize your site:
Update page titles and descriptions.




Add unique texts.




Attach a second-level domain.




Connect the site to the Google Search Console.




Update contact information and links to pages on social networks.



You can go to the appropriate settings directly from the checklist, which is very convenient. SEO page settings are also available from the visual editor interface in Best Shop Builder. In the "Menu and Pages" section, each section has an SEO item; when you click on it, you get to the tab with the parameters. Here you can add a title, description, CNC, upload a photo that will be displayed on the preview when publishing the link in social networks, as well as add additional meta tags. For further advancement, you can use the tips from the knowledge base or hire a specialist. You can do the optimization yourself - the recommendations for Selldone are the same as for other services and CMS:
Create unique and useful content.




Use applications to integrate the site with social networks.




Connect SSL protocol for traffic encryption.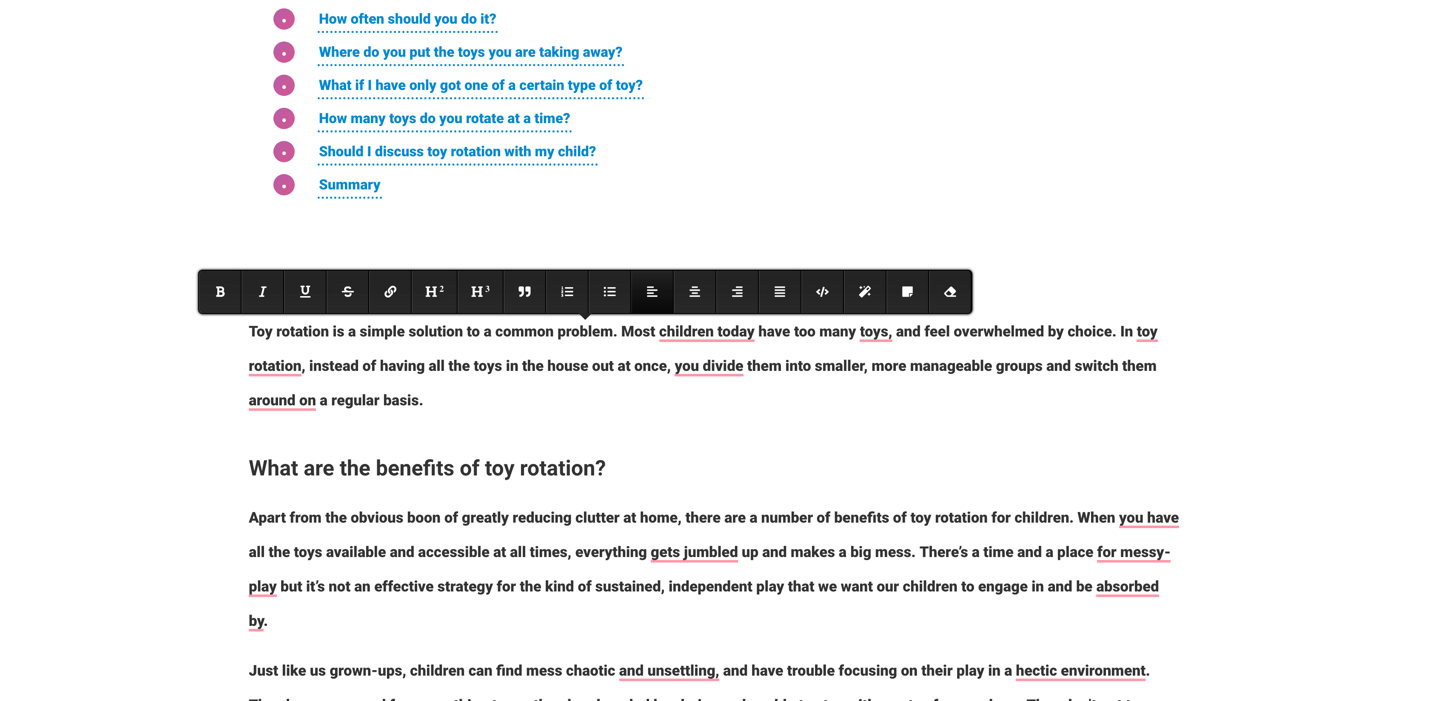 In the Selldone store, you will find a large number of applications for analytics, organizing mailing lists, placing an online consultant, and a callback order button. All these tools help to increase the involvement of visitors and ultimately increase the conversion and position of the site in search results.
Rates

of

Best Shop Builder

Selldone offers four paid rates, but you can seriously consider only three premium plans: Connect Domain is not much different from the free mode of working with the designer.

On all four tariffs, the system offers:
Domain connection.




From 500 MB to 20 GB of storage space.




Connect Google Analytics.




Premium support.



If you need to create a business website or blog, then the opportunities provided on the Combo tariff plan will be enough. For a corporate website or an information portal with high traffic, you must already choose the unlimited tariff. If you want to create an online shop, then there is only one option - the eCommerce solution. The Connect Domain tariff, in fact, has only one function - connecting a second-level domain to the site.
In principle, on Selldone, you can create a website for free and even post it on the network.
Advantages of Selldone as the
Best Shop Builder
for SMEs
Selldone is ​​praised for its visual appeal, which makes working with the designer enjoyable. But this is not all the advantages of the service. You can also note:
The adaptability of templates.




A user-friendly visual editor interface that even a beginner can quickly figure out.




Application store with many widgets.




A huge knowledge base that helps to understand the designer interface.



A single control panel for the online store through which you can track orders, receive payments and manage delivery.


Full statistics on the site - the number of page views, traffic sources, position in the search results, etc.



If we return to the external component of the constructor, we can once again note that there are really many templates on Selldone. They are competently divided into categories and types of sites, plus search is supported by keywords and filters "New," "Popular," "Empty."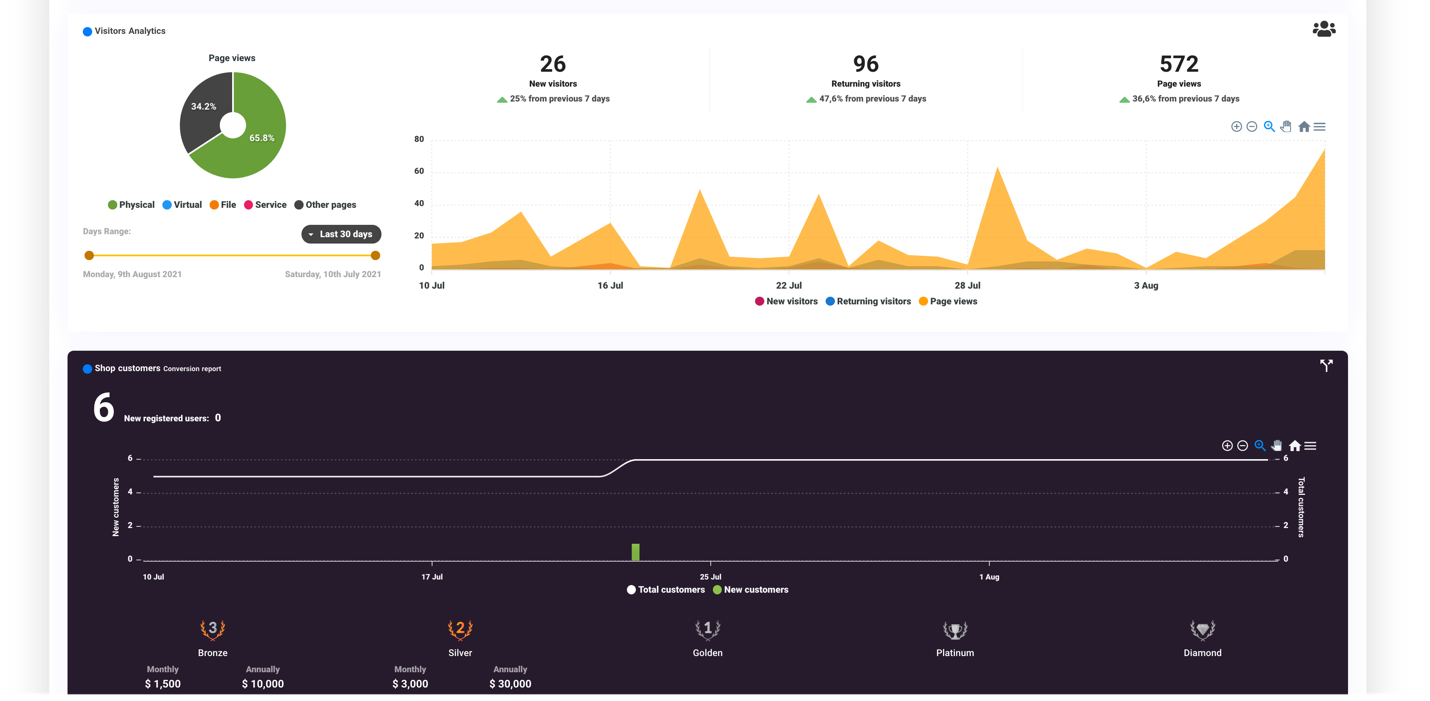 Before choosing a layout, you can see how it will look on the monitor and on the screen of a mobile device. If none of the design options came up, you can filter the sentences using the "Empty" section and create your own template from scratch. On Selldone, you can create single-page sites. Ready-made templates for landing pages are located in the same section.
Disadvantages of Wix
The main complaint to Wix is ​​the high prices and the incomprehensible division of premium plans. Connect Domain, after which the designer's advertisement is saved on the site, is unlikely to be needed by anyone; eCommerce to create an online store does not offer anything supernatural, and the price is such as if he collects the site in a day.
Importance

of SEO for Business – What is SEO, and why it's so important for a business?

SEO optimization in Selldone as the Best Shop Builder is one of the best marketing investments that you can implement at the moment. It is the type of marketing with the longest lifespan and thus the highest return. Almost every business owner in the network has wondered at some point: what exactly are the advantages of SEO? We list the most obvious.
SEO and marketing funnel for Best Shop Builder
A marketing funnel is a popular tool and an effective concept that helps manage sales. Marketers often distinguish a different number of stages, but in general, a marketing funnel consists of three parts: attention, desire, action. First, the potential buyer should find out about you, and something should attract his attention, then he should have a desire to take a certain action. This is followed by conversion. SEO accompanies and enhances every step. Of course, the most important step of a marketing funnel is the first step. Search engine optimization is needed to improve the visibility of your site on the Internet in order to impress potential buyers. Then remarketing, content optimization, keyword structuring, and other tools come into play.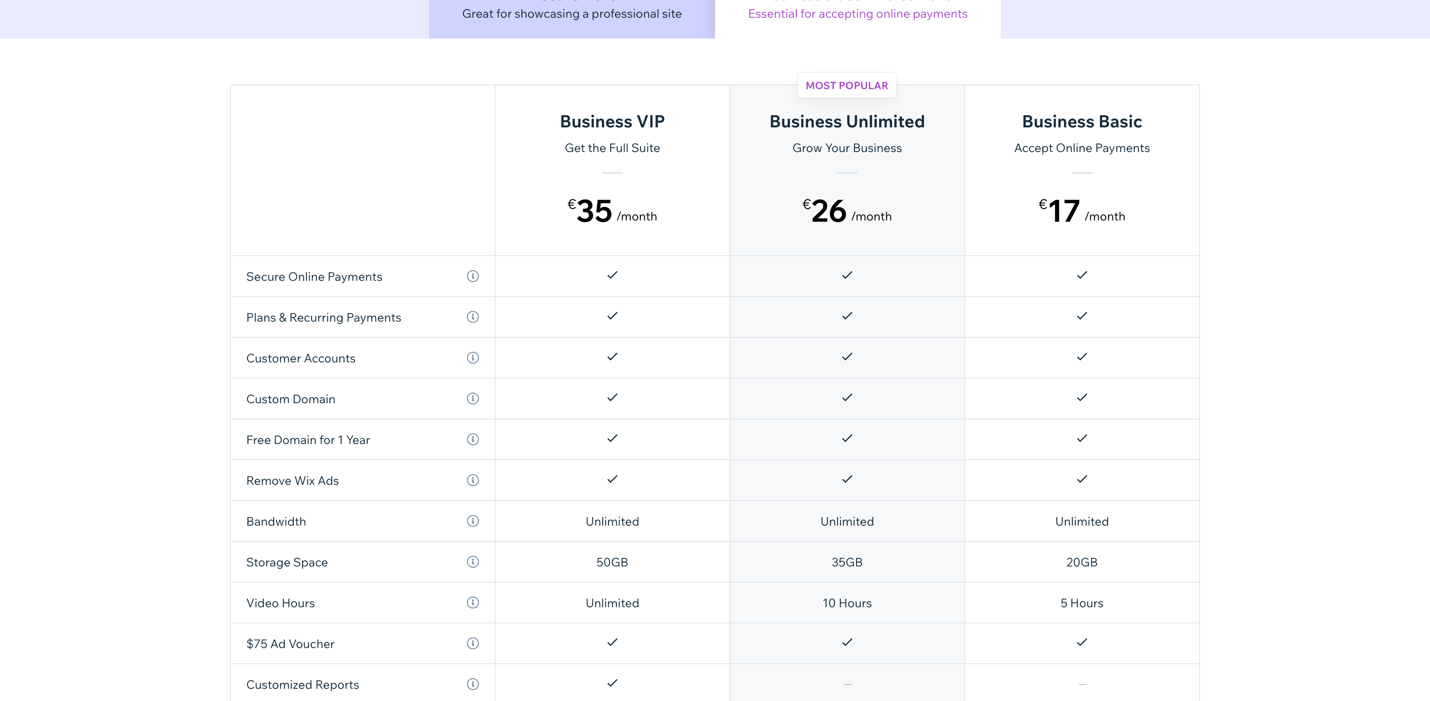 SEO Aids in Obtaining Good Ranks in Searches
Optimization of search engines helps you gain benefits from competitors so that your site can be well placed in search results. This is aided by a wide range of promotion and optimization strategies. SEO consists of content optimization, the technical side, and a variety of other services. In general, occupying the highest positions is not always necessary. You can also take a different approach, focusing on attracting the most targeted traffic rather than the positions themselves. However, if everything is done correctly, the site will be able to take a good position on a number of important requests, which will only benefit Best Shop Builder.
SEO strengthen audience confidence
If you managed to access the first search result pages, you were able to gain confidence in the search engine. But wait, there's more. At the same time, high positions automatically imply a higher level of audience trust. However, trust is crucial at the point when a potential buyer becomes a real buyer. What is causing this? This is the study of psychology. People are more likely to trust companies that are easily found online and rank high in search results. Part of this is subjective. After all, it is far from the case that the best companies rank at the top of Google or other search engines. In practice, nevertheless, this is what people believe.
SEO drives targeted traffic
This seems obvious for Best Shop Builder. One of SEO's major aims is to drive search engine traffic. It is very important that this is organic traffic because, as practice shows, a really stable volume of visitors can be obtained from search engines. During optimization, numerous factors are taken into account. This is done by using keywords, Meta tags, sections structuring, technical optimization, and semantics. In fact, nobody is aware of the number of SEO optimization factors, but 100 can be considered.
SEO saves marketing budgets
What is the alternative to SEO promotion? Paid traffic through the Display Network. This is an excellent choice in a number of cases, but compared to SEO, any traffic is justifiably considered expensive.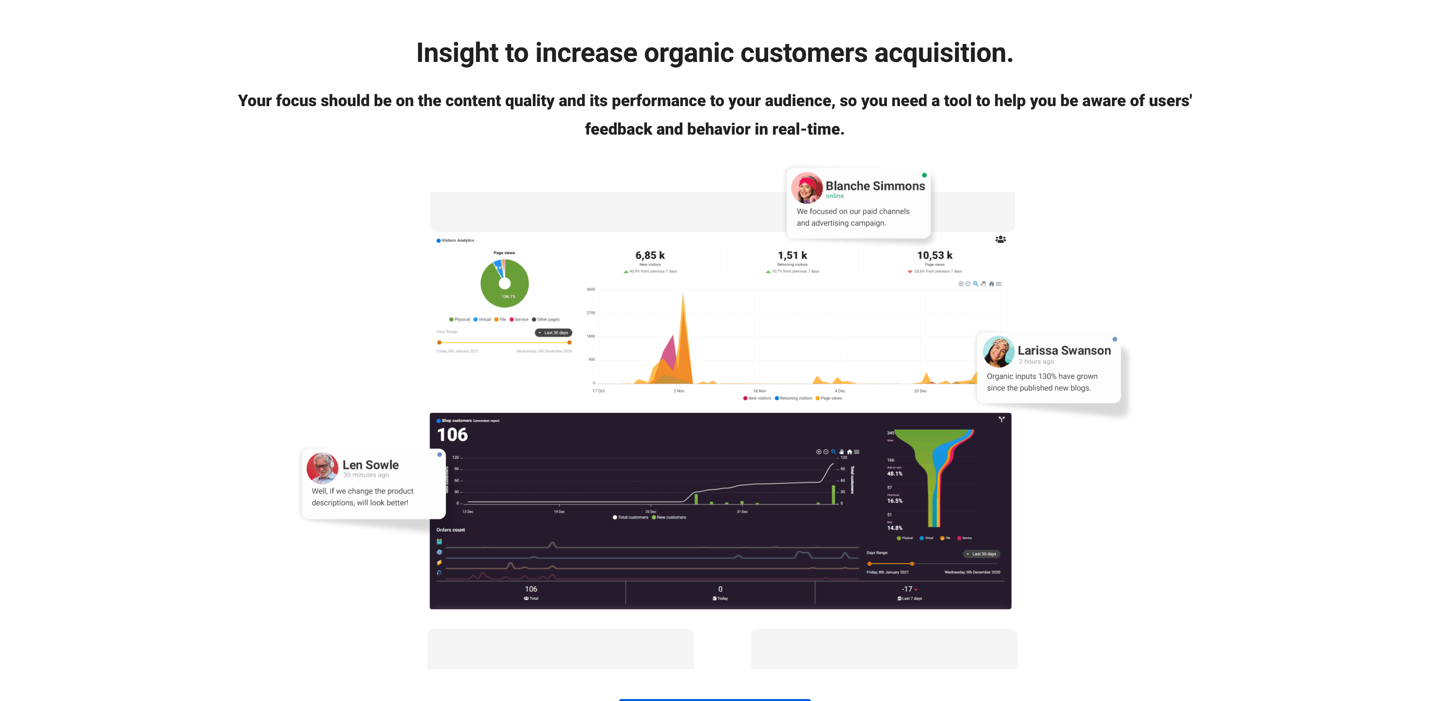 Of course, SEO is costly. But at the same time, for Selldone as the Best Shop Builder, the effect of a job well done has a long-term perspective. After the promotion, traffic will be free for the remaining time. While the influx of visitors through advertising networks completely stops after the cessation of financing. Thus, SEO is a good investment that helps save money.
SEO works on its own
When the site is well optimized, it occupies high positions in search engines and is trusted; visitors will be attracted automatically, 24 hours, 7 days a week. This will not need to be thought about. Compared to other traffic attracting options that require constant attention, SEO gives you the opportunity to relax a bit and focus on something else.
Of course, this does not mean that you can completely forget about SEO for Selldone as Best Shop Builder. In order to grow and even remain at a level for a long time, promotion work should be carried out in a constant mode. Nevertheless, this is fundamentally different from working with advertising networks, where you need to pay for each potential client, or from working in social networks that require constant communication and response.
Attracting the target audience to the site
The main goal of any SEO optimization is to attract the target audience interested in receiving your proposal, not necessarily commercial. And if the tasks are to increase business profits, remember the number of conversions received. The main way to attract "useful" traffic is also competent SEO, taking into account the needs of the target audience. And if the site has already taken a position in the TOP, why then search engine optimization. Your resource confidently took high positions on the 1st page of the search for specific queries with Best Shop Builder. But, do not forget that search engine ranking methods are regularly subject to change.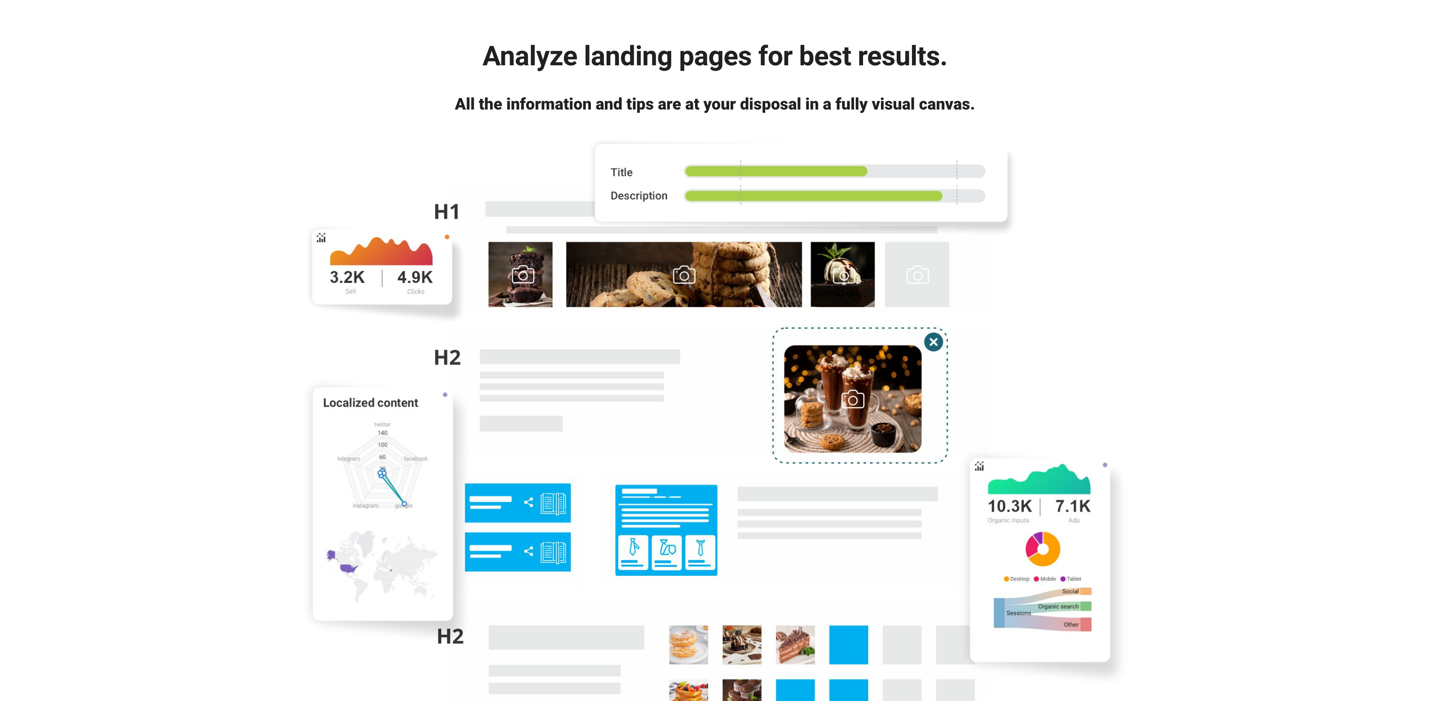 How to do SEO Optimization?
In addition, in your competitive environment, a lot of players are constantly developing their SEO and aiming to take their place.
Take SEO seriously and optimize your resource, taking into account all the latest trends in the development of search engines. Otherwise, you risk falling from Olympus, returning after a long time to the first pages of extradition, or not returning at all.
Final conclusions on the topic "Why do you need SEO?"
to optimize the resource for the main criteria for withdrawal in the TOP




to keep the site's position already achieved for Best Shop Builder




to attract the flow of the target audience to the site and increase sales in Best Shop Builder



SEO tools are much less costly and more effective, unlike other advertising channels, although visible achievements are noticeable no earlier than after 4-6 months of painstaking work. In conclusion, the meaning of SEO is humanly simple and honest. Perhaps we all agree that a large mass of users when searching for the right product or service bypass the first page of Google results. At the same time, more than 60% of the target audience comes from your offers, not from advertising, but from organic delivery. Rather, this is a long-standing perception of advertising as something obsessive.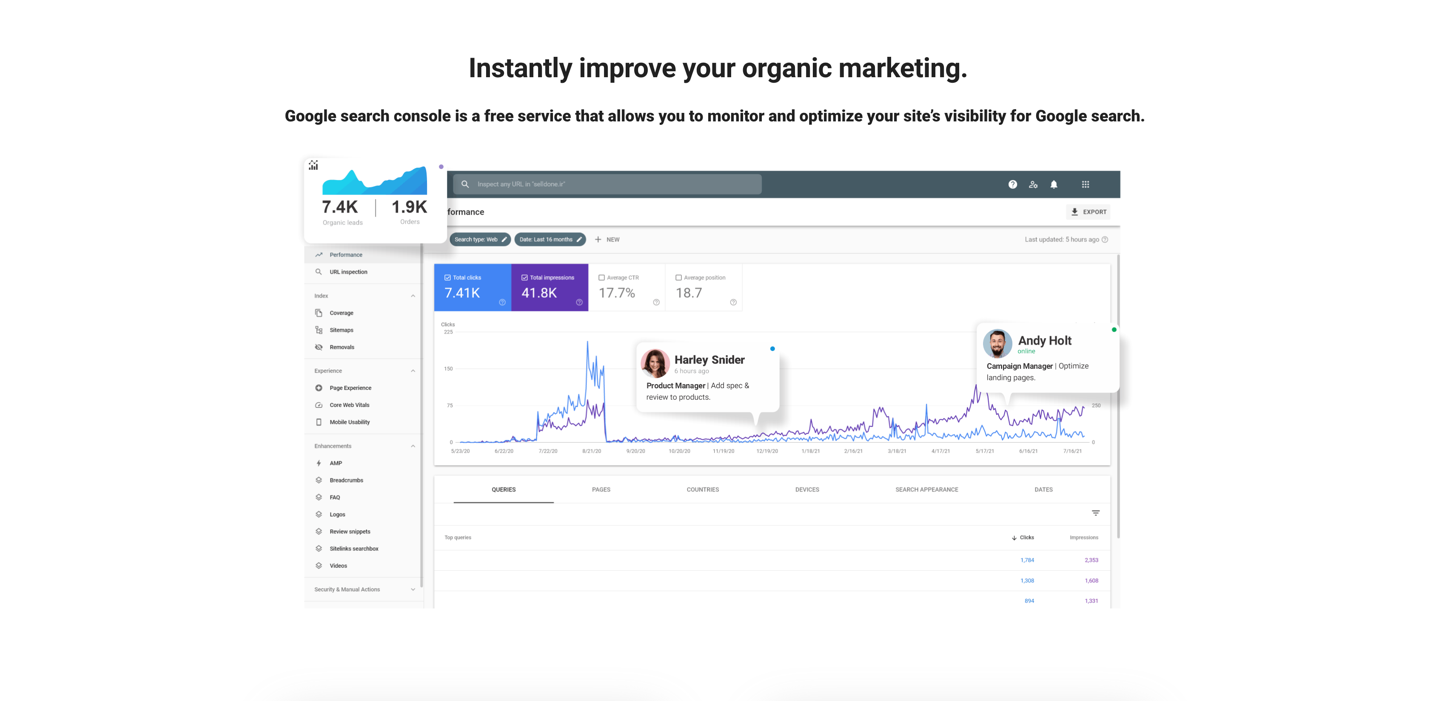 Make Your Business Online By The Best No—Code & No—Plugin Solution In The Market.
30 Day Money-Back Guarantee
Say goodbye to your low online sales rate!
Why do I need SEO for my eCommerce?
To optimize the blogs, pages, and contents to appear in top of Google search results and get more free leads.
What is the best SEO tools for my eCommerce?
Selldone SEO tools are much less costly and more effective, unlike other advertising channels, although visible achievements are noticeable no earlier than after 4-6 months of painstaking work