Best Community Platform for eCommences
Posted on August 19, 2021
You can create a great community with your employees and customers, and reduce your business support costs drastically, and create an organic growth channel, so why does your business not use it?
Whether you're an eCommerce, SME, or individual, building a community can be a great way to create a new free lead generation channel, reach a new audience, provide customer support and improve customer loyalty.
Selldone community platform allows you to create a safe and secure online space for your business. Your customers can interact with each other like any other social network, your company, share their shopping experiences, product reviews, knowledge, help each other, and create valuable networks and sustainable online business. Selldone makes it possible to create a fully white-label experience and customize everything from the logo and widgets to colors and domain. Setting up your online community on Selldone is quick and easy, and all the platform's functionality works great right out of the box.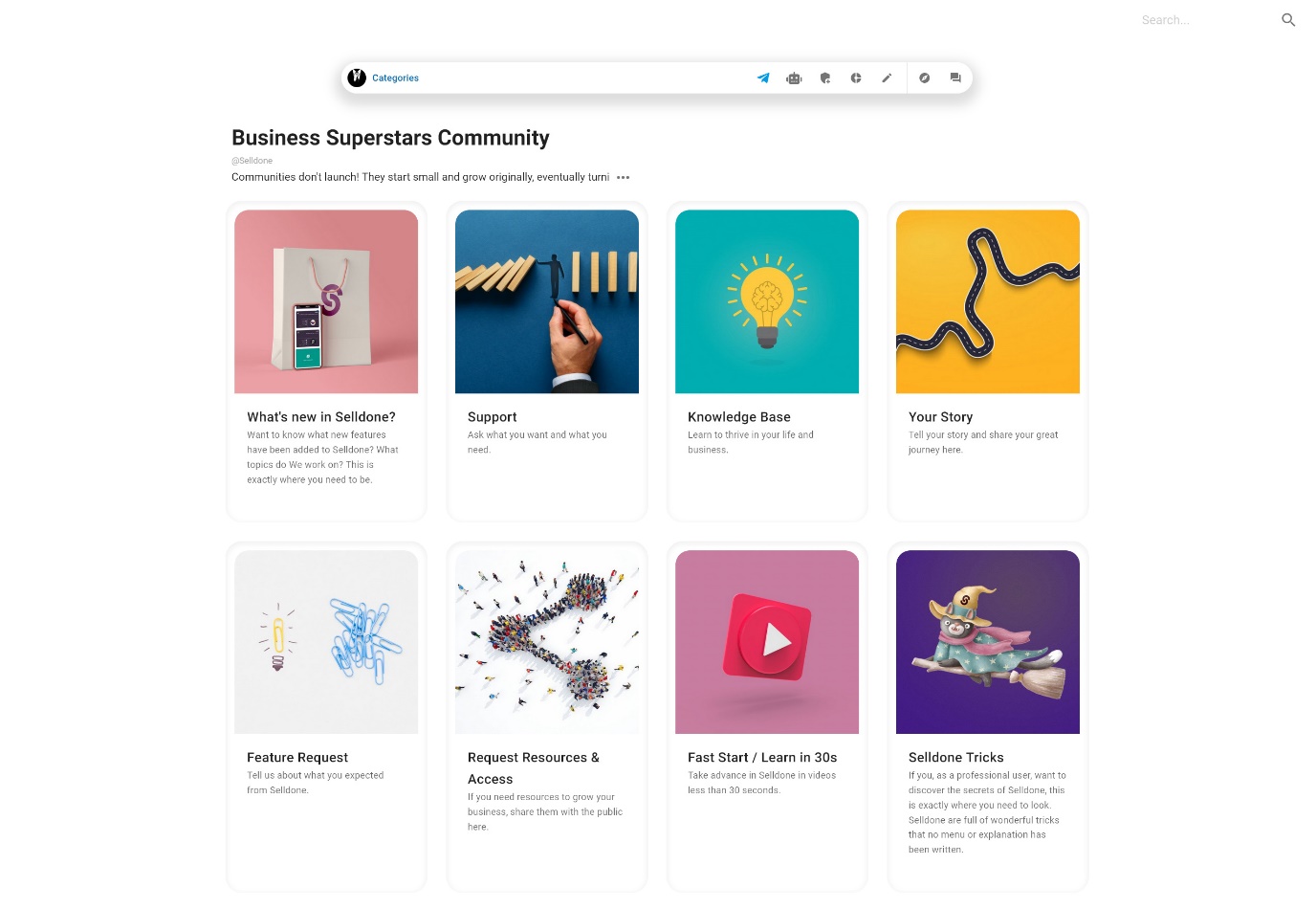 You can create a community by a free community builder platform (like Selldone) to connect and engage your audiences in one place. Imagine having a space like Facebook or LinkedIn on a site with your own domain and brand! Your audience enjoys their own personalized experience, they can create new topics or engage with existing ones, and they can easily connect with other members.
Communities don't lunch! They start small and grow organically, eventually turning into a movement.
Community platform benefits
Fit for e-commerces
Your audience will have a pleasant experience in using your community because it works in perfect harmony with all the content of the site and the products of your store.
Powerful auto SEO
Uses a powerful automated SEO engine for community content to ensure that your community well-optimized for users and search engines.
Seamless login experience
Your users can easily log in to your community with their accounts on the site, store, or social networks (such as Google).
Intuitive design
Unique design that provides a smooth and intuitive work experience for your community's audience
Control over the community
You can download a list of all your users, so you have complete control over what you create.
Community regime design
The only community platform that allows you to design a community regime for you.
Support rich content types
Supports a variety of text, video, video, audio, embedded links, and videos.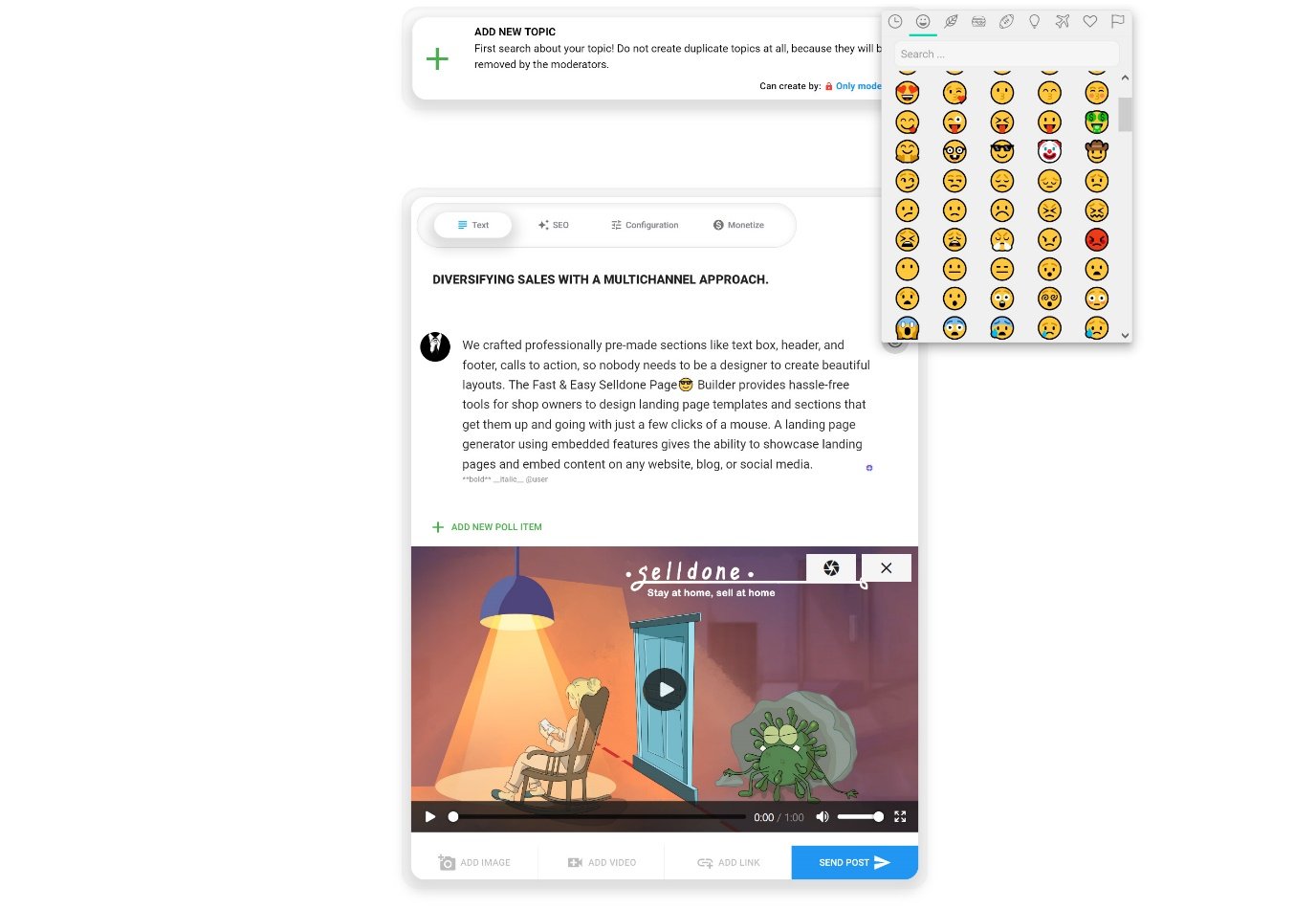 Social engagement factors and native gamification experience (Save, Like, Claps, ...)
Your audience can send their comments and feelings about each post or comment.
Powerful supervisory and management board
Tools for managing the audience's access to different community sections and adding managers and supervisors to manage small to large gatherings with several million users easily and quickly.
Member responsibility tools (Report,...)
Users can report violators; as a result, you can easily have a healthy community.
Social friendly
Share button for all posts and topics (Twitter, Facebook, ..) and the Embedding feature(Html embed code).
Topics subscription & monetization plans (Sell curses, contents and etc.)
Provides a tool to sell subscriptions for each topic to sell different training courses. Selldone community platform supports all types of sales in the form of subscriptions and one-time payments.
Community analytics
Statistics and information are a beacon for the growth of your community. We provide accurate information from your community that is easy to analyze.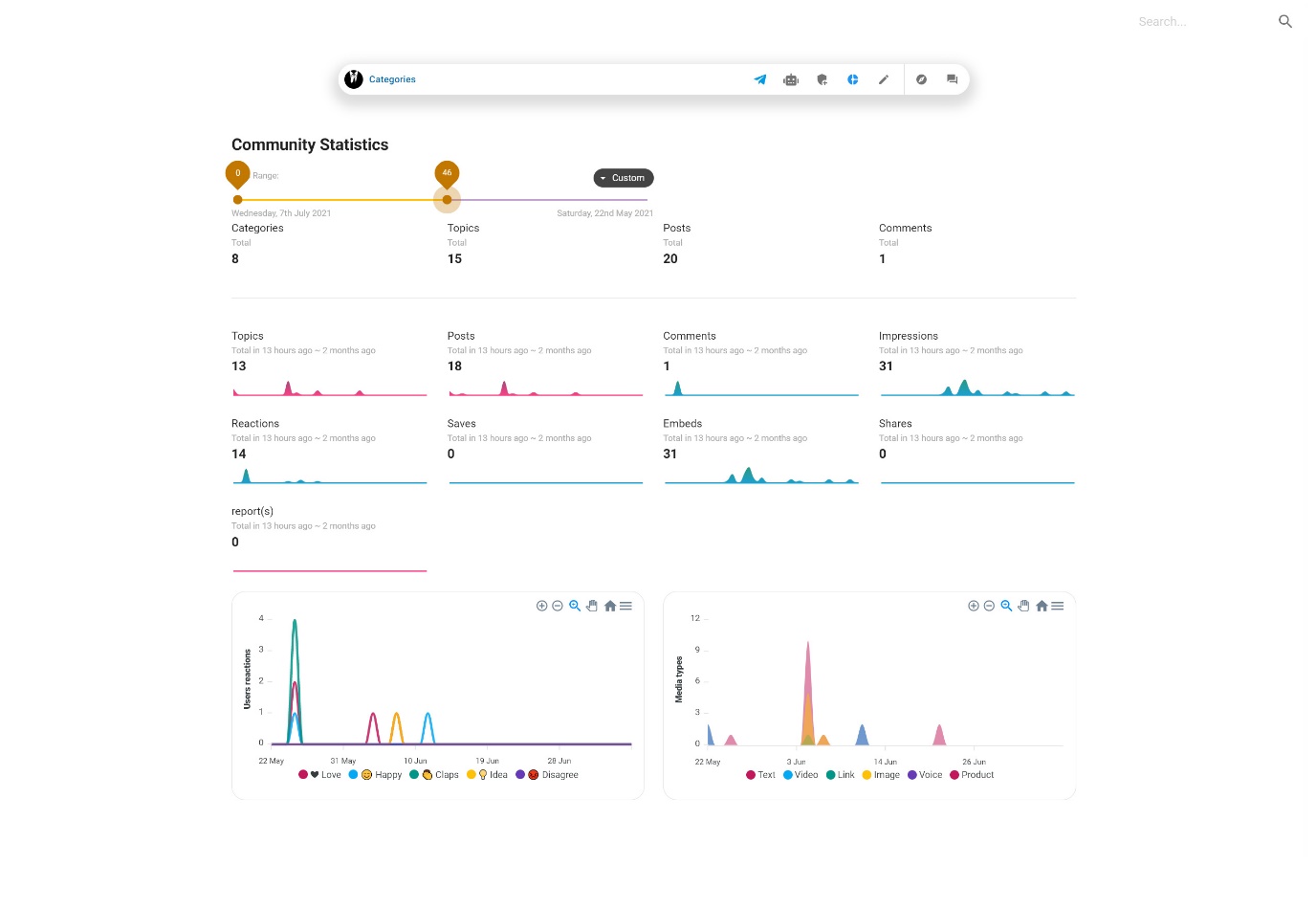 Community structure
Category (Space)
The general category of topics is in your community. It is recommended not to have more than 20 categories.
Topic (Discussion, Ask, Request, ...)
Topics created by users in each category. Topics can be requests for support, suggestions, feedback, or knowledge sharing.
Post
Posts are users' answers to a topic.
Comment
Comments are users' responses to a post. This is where users share their thoughts about others' opinions.
What is the pricing?
The Free plan does not limit your community members and makes it very generous compared to other platforms.
Community Features

Selldone All-time Free Plan

Startup, Company, Enterprise plan

Start from 9.99$ /m

Content Management

✔

✔

Custom Domain

Content Moderation

✔

✔

Discussions / Forums

✔

✔

Event Management

✔

✔

Group Management

✔

✔

Ideation / Crowdsourcing

✔

✔

Member Directory

✔

✔

Membership Management

✔

✔

Social Media Management

✔

✔

Website Management

✔

✔

Text / Markdown Posts

✔

✔

Smart Embed Link

✔

✔

Product Post

✔

✔

Voice Recorder

❌

✔

Video Upload

❌

✔

Subscription / Monetization

❌

✔
Make Your Business Online By The Best No—Code & No—Plugin Solution In The Market.
30 Day Money-Back Guarantee
Say goodbye to your low online sales rate!