How to Build an Online Store for Kids Clothes and Accessories?
Posted on February 03, 2022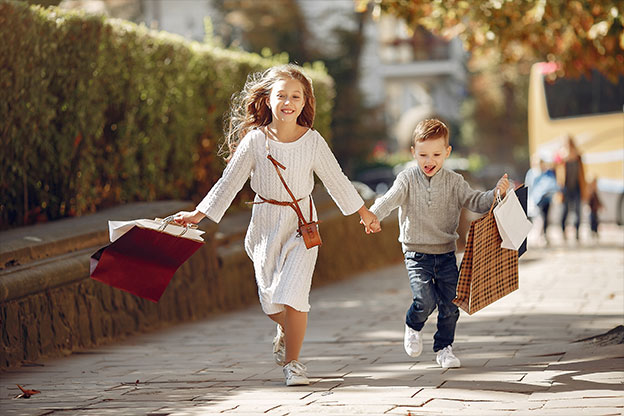 While it's true that many people decide not to have a baby in modern society, aside from them, a more significant number of people are looking forward to it. Many infants are being born worldwide every day, and what do all of those newborn babies need? Clothing and accessories. Thus the guardians of the babies would buy them clothes to keep them warm and pretty, and I think everyone knows how many accessories babies need all the time, especially newborns.

This is why it doesn't take a genius to figure out starting an online business selling newborns, babies, and children clothes and accessories is a good idea for a business. But thinking and talking about it is different from building a successful business selling babies' clothing and accessories. Doing it is probably a lot harder for those with zero experience building an ecommerce business and selling products online. This is why in this article, we're going to give you a guide on how to start an online business selling babies and children clothes and accessories and how to build a website for your business for free. Then, let's begin.
Taking the first step: making it real
The first part of your plan on creating a successful business should be the planning! Let me explain. The first step in building a successful business is to determine the type of business you will run. By doing this, you'll have a clearer view of what needs to be done every step of the way. So, after defining your business type, you should be thinking about tinkering with a business plan. But we will discuss this more in the following sections.

To make it all real and to push things further to build a successful online business, the first thing you need to do is to register your business. Yes, I'm talking about registering your business as a legal entity with the local and federal governments. Doing this will have different steps and different, depending on your residence, so be sure to search about this matter beforehand to learn all about it before taking action. As you are researching it, you might go ahead and think about the questions that will be asked about this business of yours and think about the answers right now.
Filling your inventory: sourcing the products
This is another thing that needs to be mentioned with details in your business plan, how are you source the products? This may be one of the most critical factors that define whether your business can be profitable or not. As the price you are buying the products at greatly affects the price, you're going to sell at. With a lower buying price, you have more control over the selling price, and also, there's more profit.

So, it would help if you found a way to supply the products. By doing a little search, you'll find a lot of wholesalers, manufacturers, distributors, and suppliers who are willing to sell some of their merchandise to you. Finding and sticking to a good supplier can be tricky, though, as the supplier needs to be reliable. Aside from offering their merchandise at a reasonable and fair price, it would help if you were also sure about their products' quality and how trustworthy they are, as you will depend on them to fill your inventory.

Before selecting a supplier to buy your products from, make sure to check out their official business website and read the reviews of the previous customers. If customers had an appealing expression, they wouldn't have a problem sharing that in the comment section. And that goes for bad and negative experiences and shortcomings as well, the unhappy customers will be more than happy to write a bad review and give them 1 star to make sure others are warned about it, so do not forget to check out their website. Plus, by checking their website, you would feel how legitimate their business is.

It would help to consider how many products you will be listed in your online shop. As buying and filling your inventory with too many products means a lot of expenses right from the beginning of starting your business. As you wouldn't just be paying to buy the products, there are also other expenses such as inventory management and shipment of the products to your warehouse and don't forget that you would need a bigger warehouse as well. But if you intend on having an extensive inventory full of various products from different brands but without putting in that kind of fund for it, you should consider Dropshipping.

In a nutshell, dropshipping means another company or manufacturer agrees that you would list their products on your ecommerce platform, and they would manage the inventory and the shipment of your products, so all you have to worry about is getting those orders! Dropshipping doesn't work in every industry, so be sure to think about it after deep market research.

Building kids clothes and fashion ecommerce website
After you are done with the formalities, it's time for building the platform you would be selling your products to your customers, the website. Your website is how your customers would be buying from your shop and is also a place for loyal customers to come back to check your products. To build a website without code, all you need to do is find a website builder that'll develop your website for you. The Internet is filled with many website builders that don't require any coding knowledge and experience.
To pick the right website builder, make sure to choose a platform specifically for building an ecommerce website and not just any regular website builder. And also, check that the website builder platform has enough features to add to your online shop. Features like connecting to other online marketplaces such as Amazon, and the ability to order gifts that customers would use when attending a baby shower or a birthday, etc. Suppose you're thinking about building the website but don't want to spend that kind of money making your website. Keep reading this article, as we will introduce free ecommerce website builders that you can use to build your online shop.
Free ecommerce platforms to create your online shop with
Here is a list of free platforms you can use to build an ecommerce website for your business. Make sure to do your research to figure out all the features these platforms offer. These are the top free ecommerce platform you can use to build an online shop for your online selling babies, kids, and children's clothing and accessories business:

1. Selldone

2. Bigcommerce
These All-in-One ecommerce platforms offer generous and rich features for their free plan.
Make Your Business Online By The Best No—Code & No—Plugin Solution In The Market.
30 Day Money-Back Guarantee
Say goodbye to your low online sales rate!
Can you build a no-code ecommerce website for free?
Yes. By using free ecommerce platforms, you can build your ecommerce website for your business for free, without any previous coding knowledge and experience. 1. Selldone 2. Square Online 3. Big Cartel 4. Wix. Use these free ecommerce platforms to build your online shop, as they offer great and rich features which you can use to create a fantastic ecommerce website.
What baby products sell the most?
Baby diapers were the top-selling baby product in the United States in the 52 weeks ending October 4, 2020, among select segments, as you probably could have guessed. Within the mentioned period, approximately 4.86 billion U.S. dollars' worth of baby diapers were sold through food, drug, and mass merchandise outlets.
Are baby clothes in demand?
The global baby apparel market size was USD 62.04 billion in 2019 and is projected to reach USD 82.54 billion by 2027, exhibiting a CAGR of 4.2% during the forecast period. Every day more babies are being born, which means more babies would need clothes and other accessories. And babies always need new diapers, so Yes. Baby clothes are in demand and are going to stay in demand for a very long time, and the whole industry is increasing in size and revenue each year.