Best Free POS Software for Grocery and Supermarket Business Owners
Posted on February 22, 2022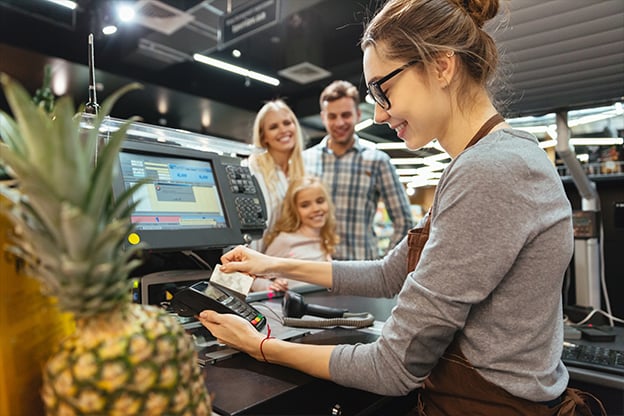 If you are a grocer or a supermarket owner, POS software services must work well for you! Don't worry if you are too busy and don't have enough time to manage all your responsibilities.

Today, I will explain the best POS software and show the best features of grocery and supermarket businesses. Also, I will introduce and compare the best 6 POS software good for such software. In the previous blog, "Best Free POS Software for Small Businesses: Benefits and Advantages," I clarified the POS software in more detail.

So, stay tuned with me to the end!

I hope the present blog helps you to make your best decision.

What are the critical features of POS supermarket software?
When choosing a POS software for your supermarket or grocery business, you should focus on some specific features. Here, I will explain the essential elements.

The best POS software for your retail shop is that you can use it anytime and anywhere.
It must be cloud-based because of real-time data. To shed light, you manage your CRM and sales more conveniently.
The best POS software must be synchronized to connect with the server if you use it offline.
Choose the POS software with a safeguard inventory tracking system to decrease hacking.
If you have several online shops, you should use multi-shop management software. It enables you to benefit from the economy of sales.
The other important feature of POS supermarket software is to provide you with an immediate report for your further critical analysis. Actually, the reports will be sent to you via email from a centralized control system.
It would be much better if you used mobile or tablet responsive POS supermarket software.
Best 6 POS software for grocery stores and supermarkets
1. Asimot
This software is an excellent solution for grocery stores and food delivery shops.

It is helpful for multiple branch management and inventory tracking. Also, Asimot enables you to manage your sales, customers, CRM, and accounting. Its deployment type is cloud-based.

2. BillMade
With BillMade, you manage your invoice, billing, inventory, and transactions. You will receive your selling reports for your further monthly analysis. It is helpful for vendor management and GST calculations.

3. Selldone
This POS software is potent and cloud-based. It makes everything too simple for you. Selldone enables you to manage your customers, payments, warehouse, inventory, tax, expense, and tracking. Moreover, you can handle your supplier and purchase order. You can use the software for your quotation and estimation. It also has a multi-user login.

4. Square POS System
Square POS System helps you in the automatic creation of customer profiles. In this way, you have access to your customers' purchase history. Furthermore, it enables you for email marketing and SMS marketing. You will have a personalized dashboard to manage your stock, tax, billing, and pricing. It is excellent for small businesses.

5. ERPLY RETAIL ERP
Erplie's features are different. It could base the system with a robust backend. Also, this software is multi-user and boosts you in your customer order management. Also, it is secured with offline mode. It provides you with built-in promotions and loyalty programs like gift cards.

6. QuickBill
QuickBill is a good software for small and medium-sized grocery businesses. This software offers you features such as SMS and email marketing, accounting, inventory tracking, banking integration, and CRM.

Why Selldone free POS software supermarket is the best?
Selldone supermarket POS software is the number one accessible platform. Selldone provides you with many more customized features compared to other POS software platforms. More significant, it is the best solution maker for your daily requirements. It is free right now!

The free software boosts you in handling various types of supermarket billing, hypermarket accounting, inventory, and retail automation.

Using the software, you will have a quick departmental list collection of your products in your grocery and supermarket business. Then, you will have an accessible database for further product entry.
It connects you to a vast number of customers. Also, it can be easily integrated with email sending options for notification messages. The software restricts every access with user permission.
The POS software is itself a cloud-based solution. It works online and offline mode while enabling you to track the due bills very simply. Moreover, it can be customizable for your sales invoice/s.
With robust inventory control, it is possible to manage various payments, prices, and tax schemes. For this purpose, you can also import the available inventory in your grocery stock.
You can have access to daily, monthly, and yearly sales reports.
Selldone POS supermarket software is user-friendly. It is simple to use and operate. You can train your new staff to work with it too.
It fits any small or large grocery business.
Final Note
I tried to help you find the best POS software for your needs in this blog. Selldone is a complete program for your grocery or supermarket business to shed light on the above text. Its most eye-catching feature is being free of charge. If you choose Selldone, you will be faster and more accurate in your career.
Make Your Business Online By The Best No—Code & No—Plugin Solution In The Market.
30 Day Money-Back Guarantee
Say goodbye to your low online sales rate!
What is the best POS system for grocery stores?
There are many great POS systems for your grocery and supermarket business, including POS Nation, RevelSystem, and ITRetail. Based on your requirements, you must choose one that suits well for your markets, whether small-sized businesses or large enterprises.
What system do supermarkets use?
Chain supermarkets and hypermarkets use the POS (Point of Sale) System to make checking out quicker. POS system simplifies complex tasks for grocers.
What software is used in supermarkets?
One of the best software for billing, stock management, customer management, CRM, inventory, and POS is Selldone software platform. This software is multi-optional. It is a great help for increasing your speed and accuracy.
How is billing done in supermarkets?
If you are a grocer, you can do it traditionally. However, billing and accounting management via the traditional system does not work well anymore. The best suggestion is to shift into using modern POS systems and software.