9 Simple Steps to Start and Grow Your Online Boutique
Posted on February 24, 2022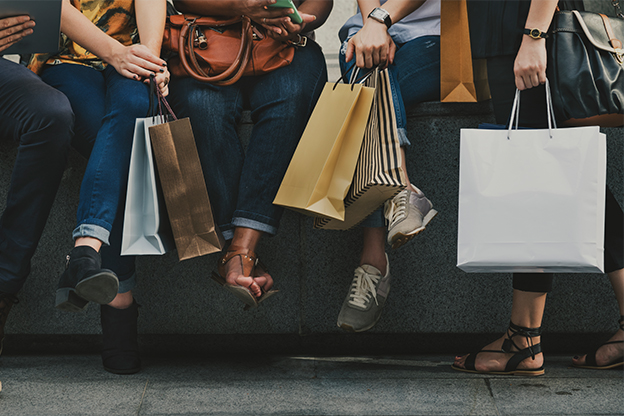 It is very exciting when you are working from home and entering the fashion world. To start your boutique online is an amazing idea that will bring you too many profits, even more than your expectations!

Let's go into the basics. I will show you the most important steps here. Please take care of the mistakes that you may experience unwantedly.

Step 1. Pick a specific name for your brand and domain.
I suggest you choose the name for your brand and domain. In this way, your customers can find you easily. People can also search for this name on social media channels. You must protect your brand name because it is the identity of your online boutique business. If you want that other online boutique owners to not take your brand name, you can trademark your shop name.

It is important to choose an easy name that your customers can remember simply. Also, it is essential to pick a name with a few characters. That's why when people are googling your brand name can find you quickly.

Step 2. Set up your Selldone account.
Selldone is a No-Money No-Code All-in-One Business Platform. If you don't have an online shop, Selldone is a great and incomparable help. Many other brands trust Selldone all over the world. Having an ecommerce website is the best tool for your business's success. Selldone provides you with too many facilities and integrations.

> Create Your Ecommerce Website <
If you like, you can use the Selldone POS, which is highly useful. This software platform offers you accurate and true reporting for further analysis. Your online boutique receives built-in SEO; then, you will get the top Google rank.

With the Selldone All-in-One Platform, you not only sell locally, but you can increase your sale to an international level. Selldone enables you to integrate your website with other digital marketing campaigns.

If you use Sellsone, you do not need to spend a huge amount of money on a website or mobile app builder just for creating your online boutique. Selldone is free of charge, and the technical support team boosts you permanently.

It has the most customizable software. So, you can create your online boutique shop according to your requirements and taste.

Step 3. Conduct widespread market research.
Conducting market research leads you directly to the needs of your potential customers. The results of your surveys will show you how to focus on the sales strategies. You will learn about differentiation, segmentation, and development.

Through market research, you will get aware of your competitors and the overall situation of the market. It is very crucial because you will gather useful information. On the other hand, market research allows you to prepare an effective market plan.

Moreover, you can start your online trial during your market research to recognize the ups and downs of your business. After you created your website, you can have a direct observation of your visitors' behavior.

Step 4. Stick to professional photography instead of using the stock ones.
You have to use real photos of the products for your online boutique. Avoid using the stock photos or the images that you find in Google. In this way, you will lose your credibility in front of customers. They would never trust you.

Instead, you must use real-time images. Also, avoid using another boutique's products photos. To increase the quality of your job, try to upload professional photos on your online boutique.

Step 5. Analyze your Competitors.
Getting to know your competitors brings you value. It does not necessarily mean doing the same thing as what your competitors exactly do. By analyzing your competitors, you have to outdo them. In this sense, you must create changes in your online boutique sales.

You have to create unique values that are exclusive to your brand. You should take advantage of the shortfall of your competitors.

Discovering the essential market metrics helps you to create your personalized marketing strategies. Thus, figure out the gaps between your competitors and recover them in your business.

Also, pay attention to your competitors' content strategies. Produce unique and unrepeated content for your website. You can engage your visitors with strong CTAs, too.

Step 6. Integrate your social media channels with your website.
On your website, you may have an online gateway. However, many potential customers may rush into your website by discovering you from your social media channels. So, do not forget to integrate your social media channel with your website. It makes you more authenticated.

Step 7. Make your online boutique website mobile responsive.
A large number of customers may not use their desktops for the search you or seeing your online boutique. I suggest you make your boutique mobile responsive too. Recent surveys have also shown that many users prefer their mobile for their net surfing.

Step 8. Use the story of your customers as testimonials on your website.
You can also write your previous customers' opinions about their purchase experience from your online boutique. It makes your website more reliable and a safer place to purchase.

Step 9. Price your goods.
I suggest you show the price tag of each good in your online boutique. Also, you can highlight the discount prices on your first web page.

Do not forget to offer event marketing with eye-catching discounts.

Final Note
If you are going to start your online boutique, do not doubt. It helps your growth, income increase, and online visibility. By the way, follow the above steps too.
Make Your Business Online By The Best No—Code & No—Plugin Solution In The Market.
30 Day Money-Back Guarantee
Say goodbye to your low online sales rate!
How much do online boutiques make?
If you want to start your online boutique, do not feel worried about your income. Changing your shop to an online boutique will bring you a lot of advantages. Your income will be maximized within the first few months. Also, you have to work on your website's SEO and advertising.
What makes a boutique successful?
Several factors make your boutique and online sales success. You have to create your ecommerce website first. Selldone is the best free ecommerce website builder. Then, work on your marketing strategies. Try to know your competitors and outdo them. Also, try to sell trendy clothes.
How do I promote my online boutique?
You need to use some strategies to promote your online boutique. You have to benefit from the recent marketing strategies. Create your website and app. Integrate your website with social media channels. Many people will discover you from your social media. Ask for your previous customer feedback and show them as testimonials on your website too.
What is the difference between a boutique and a clothing store?
In a clothing store, you can just sell clothes. In contrast, one can find many various goods like clothes, cosmetics, bags, sandals, hair products, and many similar things in a boutique.