Best Free Beauty Salon Website Builder in 2022
Posted on February 21, 2022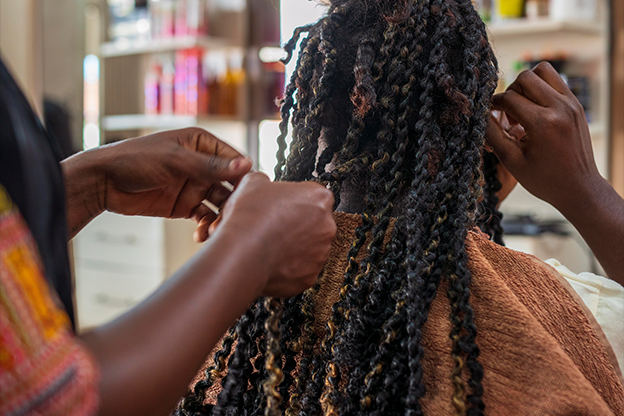 Are you thinking about building a beauty salon website, don't have the abilities and knowledge to code and develop the website, or don't have the time to either do it yourself or hire someone to do the coding for you? Well, if you are considering building a website or an application for your beauty salon or any other service-providing business, you are in the right spot. In this article, we will cover and give you a guide on how you can build your desired website with an All-in-One Platform, and then we'll give you a list of suitable website builders that will help you do just that.
To build your beauty salon website successfully, you have to carefully pick the best website builder because certain features are needed in a beauty salon website. For example, you may need a booking tool or an online contact form that will broadcast your calendar and timing for when a client wants to pick a date to come to visit your beauty salon, and you also need a map feature for that to make it easier for your clients to find your location. Another part that you need is to have an image gallery for your website to showcase your previous works, convince potential clients to use your services, or have a portfolio for your clients to show you what style or color they have in mind.

So, finding the best website builder to use could be tricky, as there are lots and lots of website builders with different features and all kinds of plans, but the truth is that most of them are not suitable for you to use to build your beauty salon website. There aren't a lot of website builders that'll be useful to you, and the number of helpful website builders reduces even more if you are only looking for free platforms to develop your website. A limited number of website builders are pretty good and helpful for you. But if you choose the wrong website builder to create your website with, you will end up losing a significant amount of time and money to only have a website that's hardly ok. Choose the right platform to build your beauty salon website with, though. You will have an app or a website for you that'll be a lot of help for your business as it can introduce new audiences to your company and will be a valuable tool for your customers to get in touch with you.

How to choose the right website builder for a beauty salon
To choose the best website builder to create your beauty salon website, you have to take steps such as researching each of these website builders. You can also consider reading this article as a part of doing the research. So, let's not waste any more of our precious time and learn the factors in picking the best website builder.

How familiar are you with technology
As you own a beauty salon (or you're planning on opening one), you might not be that much into computers and programming, and there is nothing wrong with that. A tiny group of business owners has coding knowledge and most of those who know programming work in the technology industry.

Different website builders require different amounts of knowledge; the more flexibility a website builder offers to you and the more you can change other materials in the builder, the greater the learning curve and higher the chances of you running to other errors or making different mistakes.

You don't want to waste your valuable time and resources to build a website for your beauty salon full of features that you don't need. So, to not waste time figuring out different aspects of an advanced website builder, you can use a beginner-friendly website builder to build your website, and later on, you can change certain parts or add features using different, more advanced platforms or even hire a professional developer to do the job for you.

A website builder with rich features
This is another factor you need to consider if you're looking to choose the best website builder platform. To create a website or an app with helpful features that help your business thrive, introduce your business to a larger group of people, and for users to interact and set an appointment with you more easily.

Search Engine Optimization (SEO)
The website builder platform you choose should have a search engine optimization feature to ensure that your website will be shown on different search engines (primarily Google), thus driving more traffic and attention towards your business, in other words, more clients and a larger audience.

Appointment scheduling features
For a beauty salon website and other businesses that conduct business by providing a service for their clients, you need a website that enables and allows users to look up your calendar to let them pick a date to set up and schedule an appointment.

Store
The feature to create a store to show off your other products that your customers can purchase opens a gate for you to make the best out of your business. You can sell gift cards or coupons related to your services, buy subscriptions, or purchase other products your clients need.

Marketing features
Some marketing features will help you convert the audience and users visiting your website to customers. Features include opt-in email forms, pop-ups, alert bars showing your latest one-time deals, etc. These are important to make visitors into customers.

Payment method
This is more of an optional feature. Ideally, having a payment method for your beauty salon website makes it easier for you to manage your bookings. And also gives the customers a way to pay for your services upfront. Plus, it will make your website and business appear more professional.

Design templates that suit your website
One thing that is very defining and has the most impact is the design of your website. It's essential for your beauty salon or any other service-providing business you're in to look professional. The bitter truth is that people judge you by how you look, and that also goes for your business, and this is a thing you should take advantage of to brand your business as professional.

One of the easier ways to reach this goal is to use premade designs for service-providing businesses. Different website builders approach this goal through various methods. Some website builders offer professional-looking, ready-to-use design templates that you can apply instantly to your website, and others have a set of design blocks you can use to build up your website.

If you have good taste, feel comfortable designing the template of your website, and are also eager to have more control over the looks of your website, you should go with website builders that offer you generic design blocks. But if you want to take the easier way, you can go with the remade design templates.

Keeping these three factors in mind makes it easier for you to choose the right website builder that helps you get the website that your business deserves.

Best hair and beauty salon website creator platform
Now that we've gone through things you need to look for in website builders, it's time to check out various websites building platforms. All of them are great platforms and can be suitable for a certain someone, and it depends on how you want to approach building your website and the route you want to take.

Selldone
You gain a lot of advantages by using Well done. For one, you can do all of the things you need to build a website and app in Selldone. By not using a single workplace to do all your work, you reduce the time of using multiple platforms or workplaces that'll help you get to your goal of having a website for your beauty salon faster.

With selldone, you can enable the customers to book a day by filling up a form. This will help your clients set up a schedule with you quickly; it cuts off the need to call you or send you a message.

Well done offers you a lot of great features in its free plans. This is a great deal as you can completely free build a professional website or an app for your business. You can use the website to reach out to your audience on the Internet, which means more customers for you. By using the free plans, you can launch your website, make your business more profitable, and only pay a small percentage for fees.

Wix
Wix is pretty simple to use and offers templates specifically made for hair and beauty salon websites, and they are also customizable. So you don't have to worry about the looks of your website.

Wix has a set of great features, such as drag and drop, which helps you quickly arrange and showcase pictures of your clients. Wix also supports the parts you need for a beauty salon website. Wix Bookings enables your clients to set an appointment online, Wix SEO Wiz helps you better stand out from the tons of results shown on search engines, and Wix also offers a contact page, so your clients can easily find out how to contact and find you.

Squarespace
Squarespace also has a lot of beautiful design templates from which you can use the one that you think should represent the looks of your business. Some templates can be used for a beauty salon as well.

Squarespace has a lot of great features as well. For example, it has analytics tools that can use its insights to tweak the website to gain more traffic towards your website. It also has a cool feature for you to showcase your pictures, plus it has a scheduling feature that'll enable your customers to set up a time to visit your beauty salon easily. Squarespace's SEO tool will also help you become more visible on search engine results.

Tips and advice from professionals in the beauty industry
This section will cover some tips and advice from some of the professionals in the beauty industry that you can apply to your business and become a professional yourself.

Love what you do
The first tip is to love what you do, which is owning a beauty salon business. This may sound a little cliche, but it's one of the essential pieces of advice for anyone who wants to become a professional in any profession.

Working in the beauty industry can be exhausting as it requires countless hours of learning and training to become a master of what you're doing, but it's worth it. And if you want to become a professional, loving what you do makes it more accessible, and you may even enjoy the process.

Always keep learning
Education is key. If you want to become a professional at what you do, you must always strive and keep learning. To become successful, you should never stop learning new skills and techniques; you should always take your education to the next level.

By investing in your education, you're investing in yourself and your career as a beauty professional. It can be a complex and challenging thing to do as learning takes time and effort, but you can charge your customers higher by higher education and advancing your skills. And your customers will be introducing you to their friends as your skillset appeals to them.

Be confident
As a beauty professional, there is so much to learn and many things to do, and you may end up making a mistake or two while learning a new technique. It could be frustrating, so you need to be confident in yourself and in your abilities to push through the doubts you have about yourself.

As mentioned above, another way to boost your confidence is to keep learning. By practicing, you will get better and better, and you'll end up believing more in yourself and as a professional.

Know your clients personally
This one may be a little obvious as you probably already know that building a relationship with your clients and getting to know them will help your business as they are more likely to give a generous tip. But it's not all about money. There's a higher chance that they will be back at your salon.

By getting to know your customers personally, you will also be more fulfilled by doing what you do. The long work hours won't be as hard, and your customers will be looking forward to meeting you on your schedule.

Advance your skills
As a beauty professional, there are a lot of niches that you can work on and become a professional in. To become a professional in the beauty industry, it's essential to pick a place and become very good.

For example, if you're a hairstylist, don't switch to another niche after learning a few hairstyles and methods to cut and color. Stick to it and become a professional hairstylist by learning some of the more advanced hairstyles, learning about specific color treatments, and learning how to

Understand your insurance policy
Whether you own a beauty salon or you're working as an individual independently, knowing your insurance policy is the safe way to work. As a beauty professional, it's essential to know your insurance policy, how claims are handled, what coverage is included and what's not, etc.

Final Note
If you know how to choose the right platform, you can build a website or an application for your beauty salon or any other service-providing business you have. There are a lot of factors that define a good website building platform and help you pick the one that suits you best. You may want to build the website for free or have certain features.
Make Your Business Online By The Best No—Code & No—Plugin Solution In The Market.
30 Day Money-Back Guarantee
Say goodbye to your low online sales rate!
How to Create a Beauty Salon Website?
Get inspiration from other successful salon websites. |Pick out a domain name for your website that suits your business. |Pick a website builder that fits you and your salon's needs. |Design your new salon website. Add all necessary information about your salon to the right place.
What should I put on my hair website?
Represent yourself and your beauty salon, add some features to help your customers book a day, and schedule an appointment. You can make your business more profitable by using pop-ups and other methods to change an average viewer to a customer. | You can also showcase some of your previous works and even make an inventory for some physical products to sell them individually or offer a subscription plan that your customers could order and receive your products online.
How do I create a beauty salon app?
Choose a template for your application. Some app builders offer premade templates professionally designed for beauty salons and outstanding features such as a gallery to showcase your products and some previous works and booking systems for your clients to schedule an appointment. Brand your App's appearance and launch it!
How to advertise my beauty salon?
Always Re-Book another appointment with Salon Clients During their Visit. Create a Salon Tour Video for Your Salon's Social Media and Website and also post it on your App if you have one. Run an SMS, Email, an Ad on Google or Facebook Campaign. Use Social media to promote your business, like posting Instagram Stories to Promote Salon Specials. Add Service Pages and Keywords to Your Salon's Website.