Best Dropshipping Supplier in South Africa | 2022 Update
Posted on February 19, 2022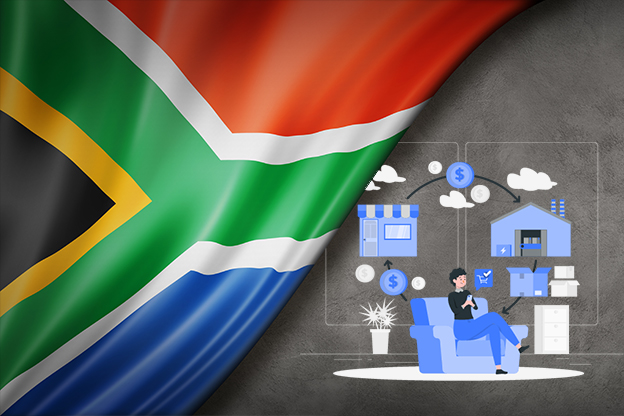 In such a young and fast-growing country like South Africa, where the number of internet users is increasing, there's no wonder why dropshipping has become one of the most profitable and trendy businesses there. More people tended to purchase online and order products from online stores in recent years. This easily paves the way for dropshippers to develop their business and earn a higher income.

How is online shopping going in South Africa?
In 2020 the top 100 online stores' income in South Africa had reported 909 million dollars. This number simply shows how people in South Africa are relying on online stores to provide what they need. Takealot, Superbalist, and Woolworths are among successful online vendors in South Africa that made their way to the top of the list.

With this huge demand for online products, would you ever question if dropshipping is profitable in South Africa?

How does dropshipping work in South Africa?
In spite of the fast-growing society of South Africa, the industry still has a long way ahead. So if you want to develop your dropshipping business in South Africa, you'll need to choose your target buyers carefully and pick the best product niche. There are several profitable products that are trendy for dropshipping all over the world; however, take a closer look at what products in South Africa mostly in demand are. After that, you'll just have to find the best dropshipping supplier. There are three ways in which dropshippers do their business in South Africa:

Dropshipping from South African suppliers to South African customers
Dropshipping from South African suppliers to people overseas
Dropshipping from China or other countries to South African customers
If you have already made up your mind to sell products from other countries' suppliers to African people, make sure you read this blog about the best suppliers carefully. But if you are going to sell products from local suppliers in South Africa, then stay with us! We're going to introduce the best dropshipping suppliers in South Africa that can play a crucial key in your business improvement.

What are the best dropshipping suppliers in South Africa?
If you have chosen your product niche that meets your target buyers' needs, it's time for you to know how to find suppliers in South Africa.

Neat Freak
From drawer organizers to noticeboards, Neat Freat provides all the tools needed for cleaning and organizing your house and office. If your niche is related to household items, it pays off to take a look at their website and see if your product is available on the list; however, Neat Freak isn't a big supplier that produces lots of products for the customers. So you can't always expect fast delivery from them.

Men's Republic
Is your niche product related to gadgets, phone cell phones, or anything related to technology? Then don't even miss Men's Republic! They offer many types of technology products that are exclusively designed for men. One of the good things about Men's Republic is that they get you informed when the order is sent to the buyer.

Calasca
You could never ask for a better supplier for buying homeware, kitchenware, outdoor products, beauty products, kids' toys, and other similar categories. They receive the customers' damages, unfavored or incorrect products for free and under special conditions and rules.

Dropstore
If your dropshipping business is located in South Africa, then you must have heard about Dropstore. It is a bit different from other suppliers in the way that Dropstore is actually a marketplace for dropshipping. It doesn't manufacture a specific type of product like the previous suppliers we introduced. Instead, it allows you to connect with different suppliers in South Africa and order a wide range of products. By adding Dropstore to your online shop, all the processes of getting orders, sending the orders to the supplier, payment, and shipping the product to the buyer will be automated.

Third Wave Distribution
The Wave Distribution is a company that distributes international brands to various retailers in South Africa. You can be sure of the high quality of the products as they control the quality of the products under strict rules. Then they will send them to the warehouse in South Africa.

Shopstar
As the equivalent of Shopify in South Africa, Shopstar is an ecommerce platform. So you can set up your online store using Shopstar and connect to suppliers and find the product you want.

Planet54
The most popular product to buy online in South Africa is clothes. So if that's the product you chose to sell, you don't want to miss Planet54. It is one of the biggest suppliers in South Africa that offers footwear, clothes, and accessories.

The Scents
As the name says, it offers various types of beauty products such as fragrances, skincare, makeup, and candles. One of the advantages of The Scent is the high security of online payment on their website. They also let you know when the product is shipped to your customer.

That was just a list introducing the best dropshipping suppliers in South Africa. If you want to start a dropshipping business in South Africa, you need to look way more carefully into every supplier and know more about their features and terms. By the way! If you are about to be a dropshipper, make sure you know all the characteristics of a good dropshipper so that you can go places in dropshipping!
Make Your Business Online By The Best No—Technical Solution In The Market.
30 Day Money-Back Guarantee
Say goodbye to your low online sales rate!
What online products are in demand in South Africa?
Clothing |Phone and accessories |Baby products |Home and office items |Health and beauty
Can I sell on Shopify in South Africa?
Several agencies and local payment have let South African people have a pleasant experience in selling products online using Shopify.
Can I use Oberlo in south Africa?
Yes! Many dropshippers in South Africa use Oberlo for dropshipping to manage their inventory and fulfill the orders in the easiest and simplest way.
Do dropshippers pay taxes for dropshipping in south Africa?
Well, yes! Like in many other countries, you have to pay taxes for dropshipping. Refer to laws and regulations of taxes in South Africa to know about the amount of the taxes.