7 Reasons Why a Community and Private Social Network Attract More Customers and Reduce your Support Cost
Why does your business need a social network and community to attract new customers and reduce costs?
In this article, you will learn why setting up a private social network (Community) and how to build it for your business. When I write this post, launching private social networks is a new, attractive, and growing trend for online businesses and large corporations. Let me start with a familiar example. How often have you been driven to an online forum to find the answer to a question on Google? A community is an online place for people to write about their experiences and answer other's questions! You can easily find examples such as Quora and Stack-Overflow with a Google search. The benefits of starting a private community for your business are so great that I promise you will decide to build an online community at the end of this article. I will introduce you to the best option for free to build a private social network with the Selldone community builder platform.
What are the benefits of building a dedicated community or social network for my business?
Imagine how much people you know spend time on social media! Social networks are designed to be attractive for their audience; people follow the content they like and share their stories with others. This is the network effect in social media and online communities. Now suppose your business allows for two-way content sharing instead of one-way content distribution (for example, blogs)! Your customers will share their experiences with your business, ask questions about their concerns, and give valuable feedback. The growth of your social network will create the growth-consequences for your business, and valuable content for your site will be continuously generated for free. Setting up a forum has always been challenging, but do not worry, I will introduce a simple solution by using Selldone free community builder in the following.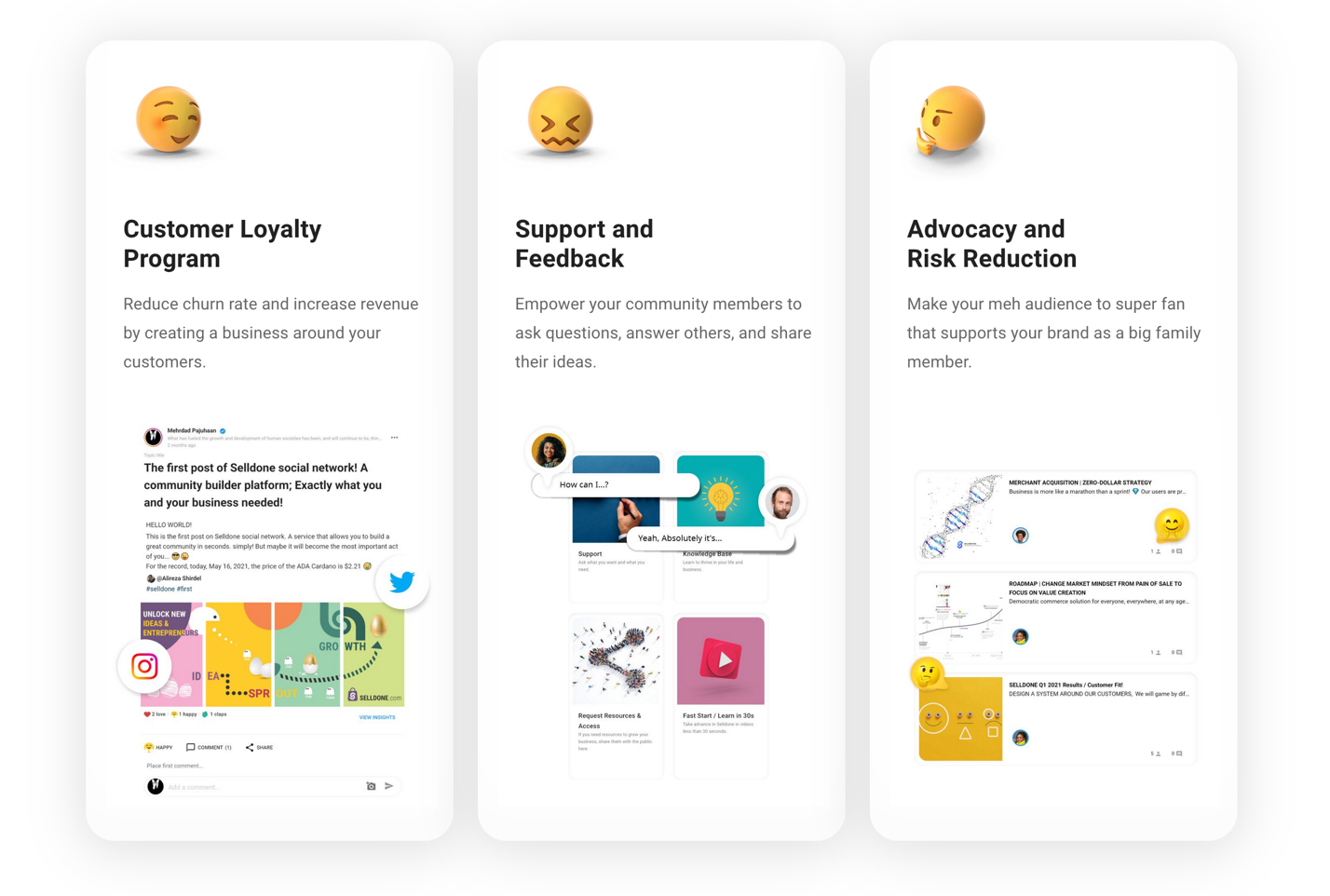 1- Building a social network to get free content and SEO
At the beginning of your social network journey, you should put helpful content in your forum to encourage people to work in it, so it's you, the person who defines and manages your social network culture. After a while, your audience will start posting their content. This unique and valuable content will have a significant impact on your ranking in Google. By the growth of your community, you gain better results without spending even one more dollar. The combination of social network content generation strategy + Selldone SEO engine will put your business at the top of Google results.
2- Building your social network to reduce support costs
How much time do you spend per day responding to your customers? How about repetitive questions that you have to answer every day! If you set up a dedicated social network for your business today, your audience will start asking questions in your forum after a while, so answer them patiently. Rest assured that over time, your community users will be answering other people's questions. As a result, support costs for repetitive questions will disappear from your business over time.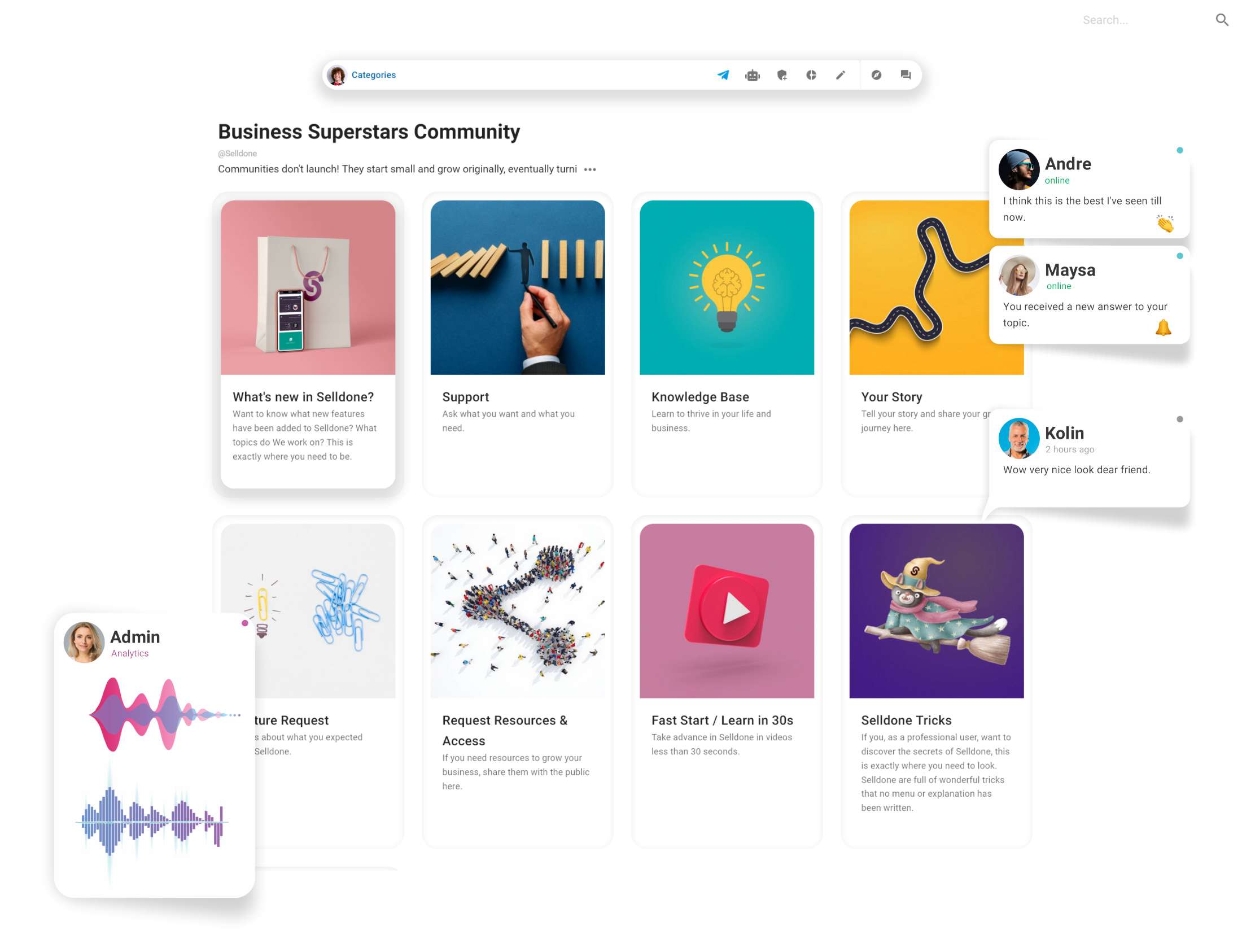 3- Building a social network to sell products and services
The decision-making process to buy is very complicated; it is a more emotional decision for most people than a rational decision. The customer's first impression will have a significant impact on his decision to buy or ignore it. People are looking for social approval for their decisions, and online shopping is one of the places where this is well visible. Suppose you have a social network for your business. In that case, potential customers will be able to see the experiences of others, and I promise you that the effect of social approve, by other customers, in the decision-making of a new one is much more significant than any advertising message from your side.
4- Building a social network to increase your brand awareness
Your brand is one of the most valuable assets, whether for a company, product, or personal brand. Giving one-way messages from you to your audience will not be very effective for building a human-oriented brand. You need to engage audiences with your brand and build a cohesive, vibrant social network around your business and market message. This is the golden key to achieving significant success in your business.
5- Building a social network to create a loyal customer's circle
Do you want your brand not to be easily attacked by competitors or a few dissatisfied users? So, make an online space for your loyal customers; they will do the rest themselves. These loyal customers will defend their decision to use your services and, as a result, will indirectly be the defenders and promoters of your brand. Doesn't such behavior remind you of Apple users or football club fans?!
6- Building a social network to get feedback and improve the user experience
The best fuel of business growth is the customer's feedback. A safe and healthy online space allows your customers to share their experiences with you directly. But keep it in your mind, you should welcome all comments, both positive and negative. Note that being in the online social space is a double-edged sword! If you try to censor and delete dissenting comments, you may quickly become a hated brand among users. Exactly the mistake that some famous brands make today.
7- Building a social network for selling subscription of knowledge, counseling, and virtual-classes access
Do you have the knowledge that someone else needs? Ok, it's great, so I can illustrate the path to gain more audience and make money from them. You should generously share your knowledge on your social network; you will find new audiences, many of them will ask for confidential advice or access to unique content. This is the time when you can create private and non-free topics through the subscription service of Selldone Community Builder Platform.
What are the key features of a successful social network for my business?
Some of the key metrics to choose the right platform for building a social network include simplicity of scaling by increasing users, attractive user interface (UI), engaging user experience(UX), straightforward login flow, built-in analytics features, and management tools. Here are some of the features of Selldone social network builder that meet the needs of your business well.
Setup on your custom domain
You will be able to build your community on a dedicated domain or free domain provided by Selldone. The cost of setup your dedicated domain in Selldone is about 10$, price list; also, you can get this feature for free by inviting others by your referral link.
Hyper-intuitive post editor
An intuitive post editor engages your audience to post on your social network. Selldone Community Builder provides the most beautiful and engaging editor in your social network.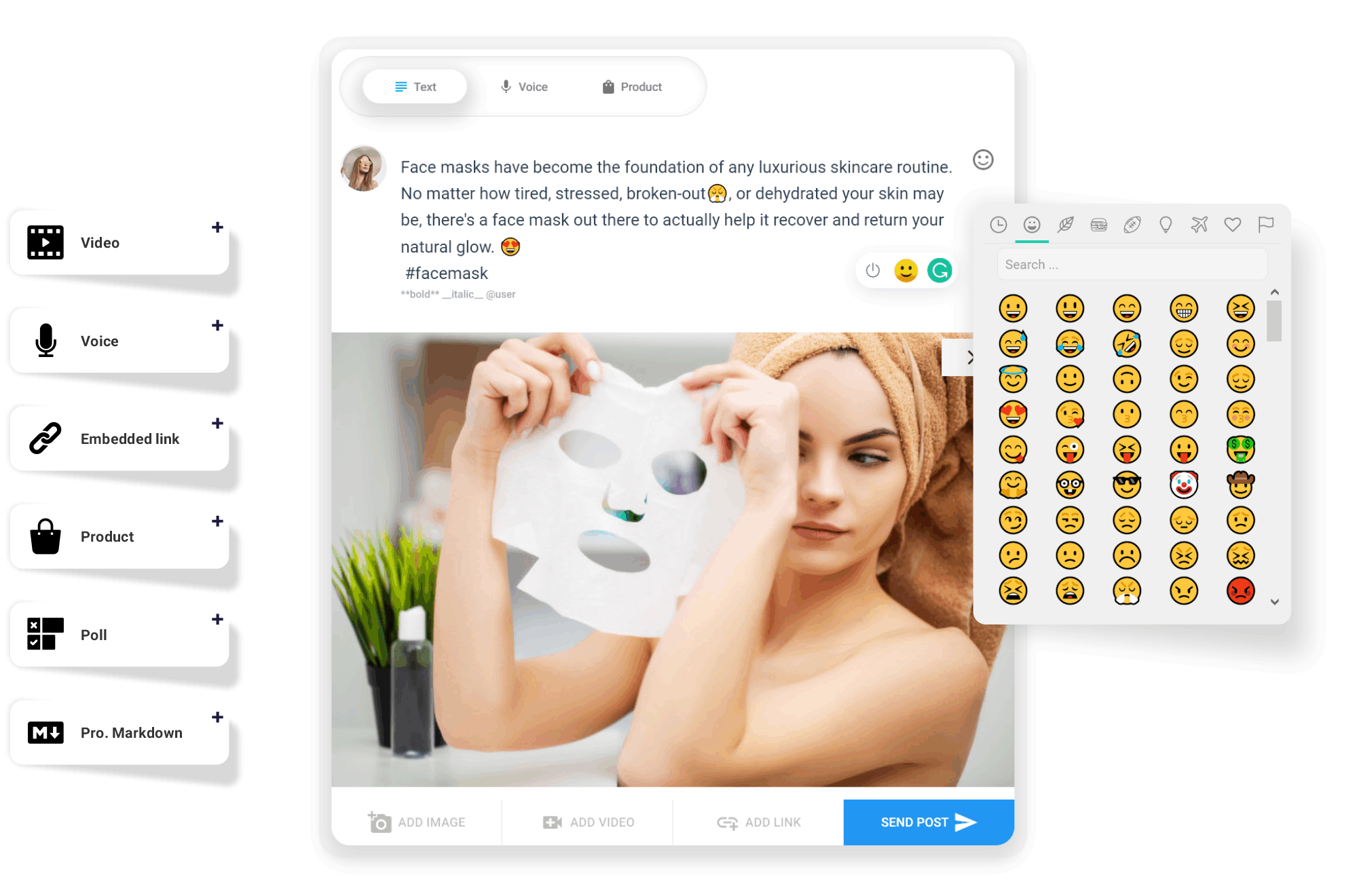 Ability to send media, videos, audio, links, polls, and text
Selldone allows your audience to share their images, videos, polls, and audio in your community. All of these features will be enabled in your community without the need for coding or special expertise.
Customization capability
One of the crucial features of a community platform is the ability to customize, so you can customize your pre-made social network and match it to your brand in Selldone social network builder.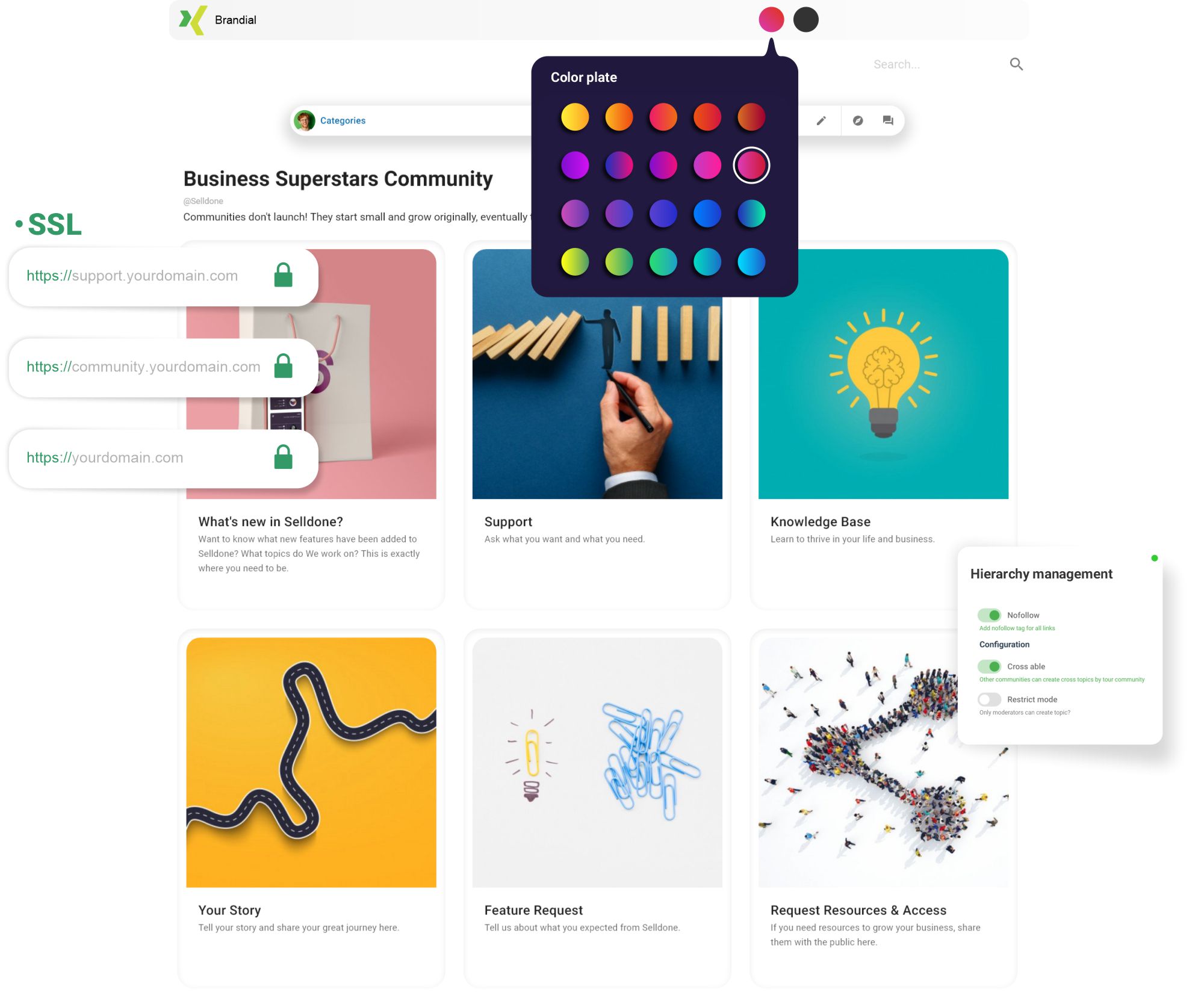 Cloud-based service and unlimited content capability
It is very important that your social platform is completely a cloud-based service to be able to serve even millions of users. By building your social network with Selldone cloud-based community platform, you will no longer have to worry about increasing resources, scaleup, maintenance, and costs.
Community management tools
Managing a community can be challenging, so Selldone makes it easy for you to manage the community in several layers. Moderators are able to manage the community; also, other users can contribute to keeping your social network healthy. A variety of features, such as reporting violations, restricting access to certain categories or topics, are some of the distinguishing features of the Selldone community builder platform.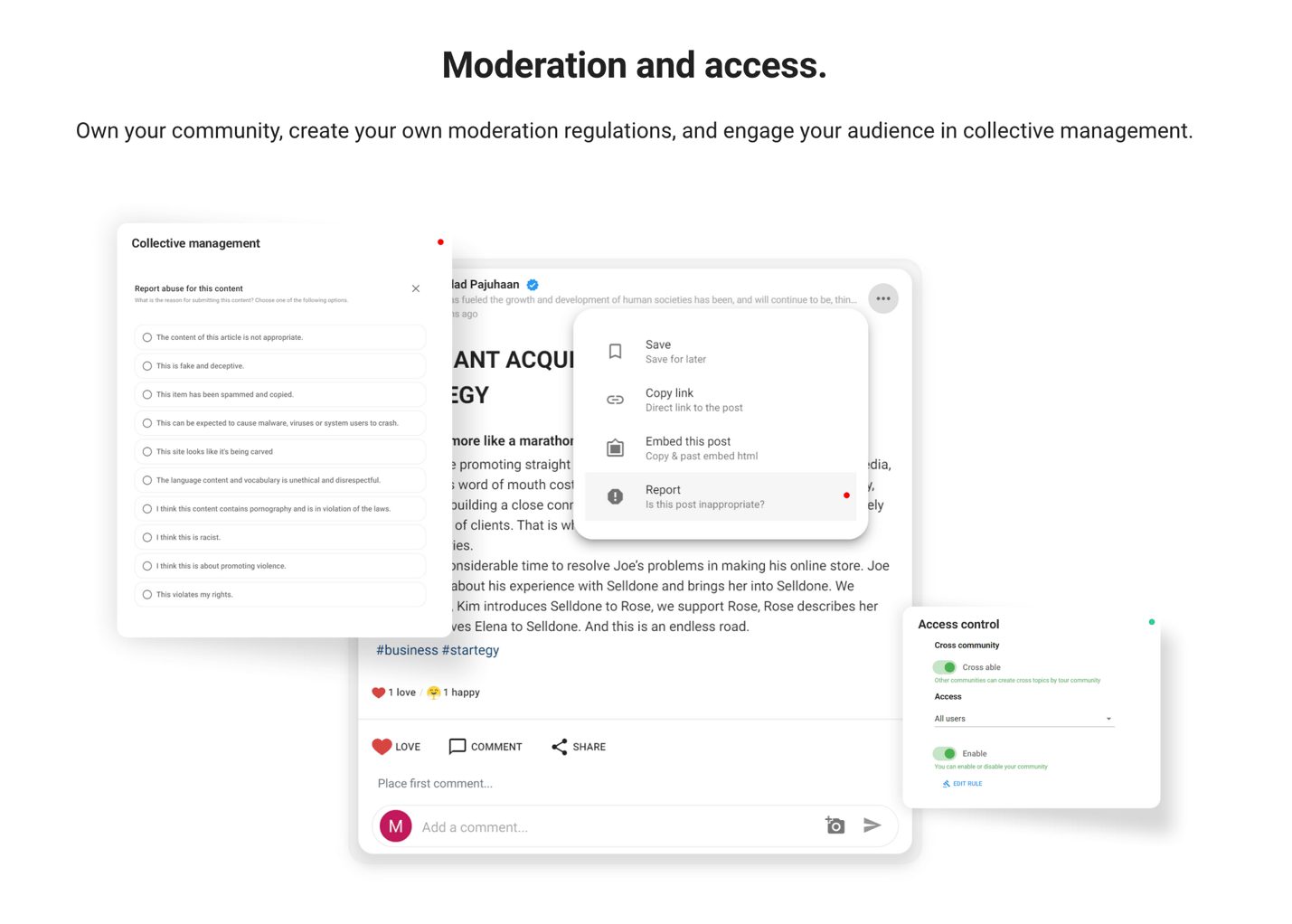 How much does it cost to build a social network?
Creating a private social network in Selldone is completely free; you only need an invitation that you can request from others or from us. If you want to connect a dedicated domain, you can refer to the price list.
How long does it take to build a community?
Login and create your first free shop in less than 60 seconds; you can own a dedicated social network. You do not have to use the eCommerce features of Selldone to have your social network.
Building a free social network in 5 steps
1- Register on the site or log in directly with your Gmail account.
2- Build a free store; you do not have to use the commerce features of Selldone, so just enter a title and name is enough to build a store.
3- Get an invitation or nomination.
Tip: To build a community for free, send us your username or the name of the store you created for us on social networks such as Twitter, Instagram, or LinkedIn (the best and fastest option) by mentioning the official pages of Selldone so that other people or we can nominate you. This will usually take less than a few minutes. After receiving the invitation, you will also be able to invite others. Selldone social pages can be found at the bottom of the website.
4- Enter the shop management and select Customers > Community from the top tab, and press the INSTALL NOW button.

5- Fill the form and create your community. Finally, hit the OPEN COMMUNITY PAGE to enter your social network space.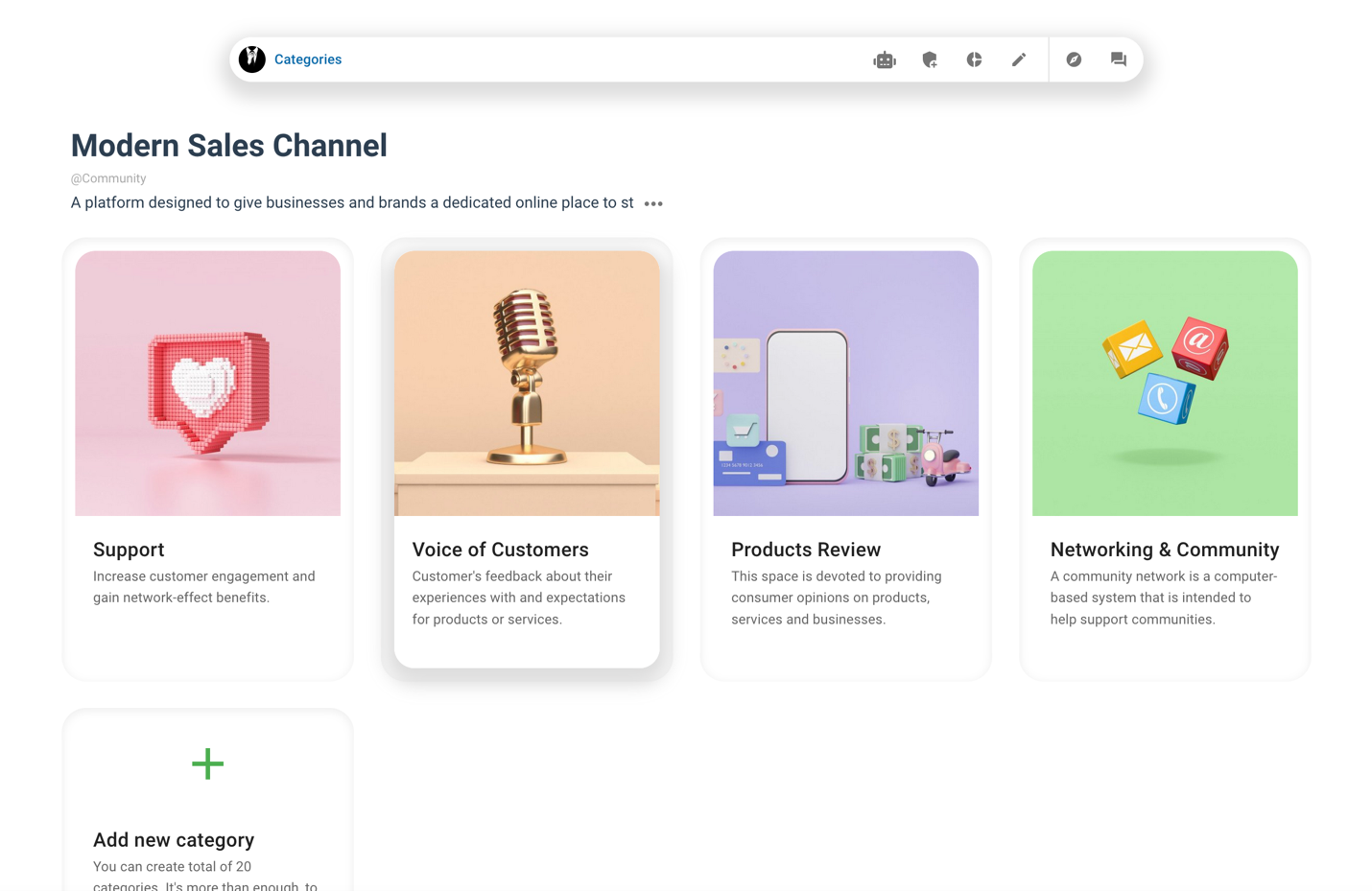 Be sure to log in to your site to display the community management tools, such as adding categories and analytics. After the first time, you log in, press the F5 key, and refresh the page.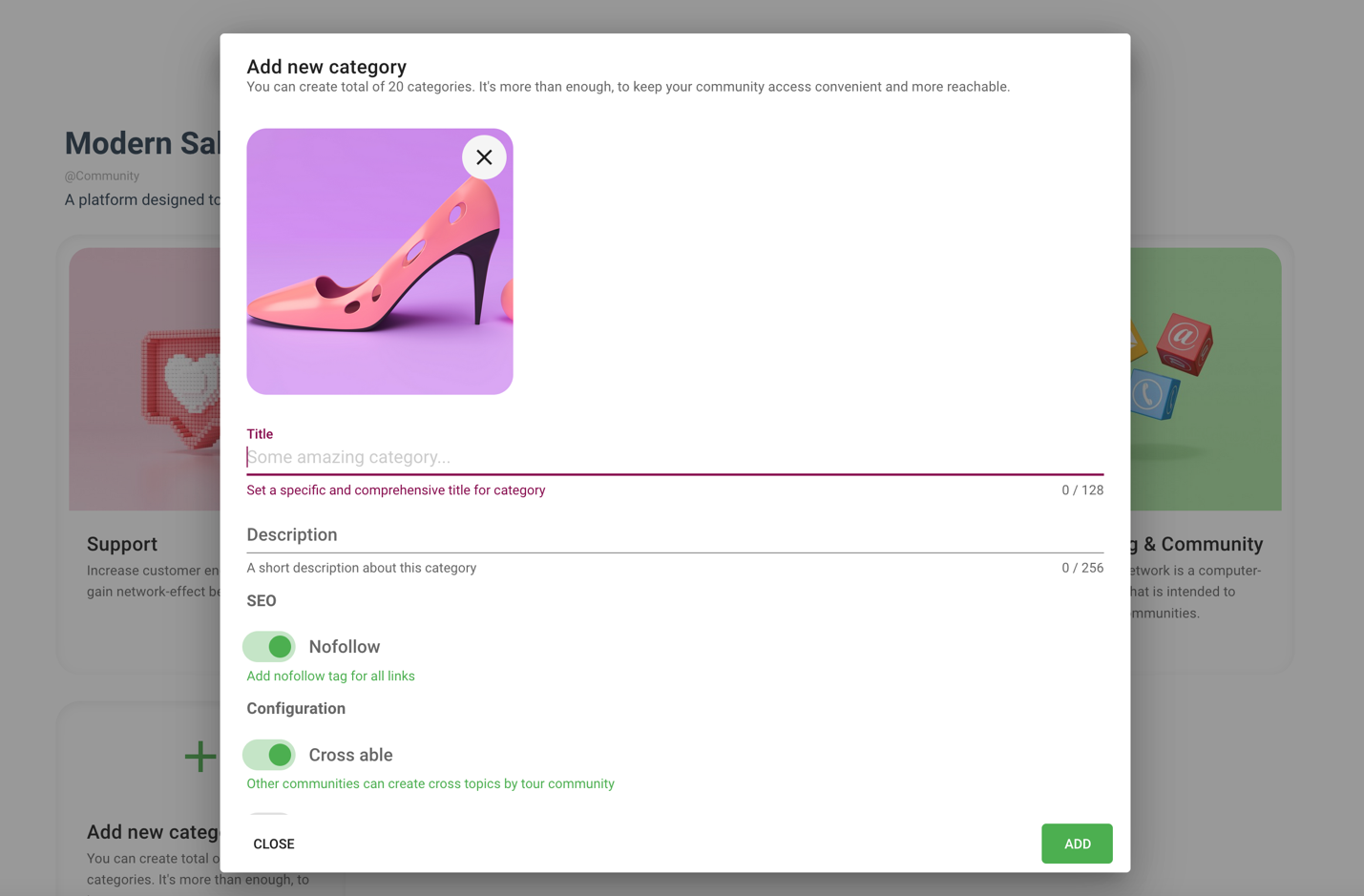 You can now easily create categories and manage content in your private social network.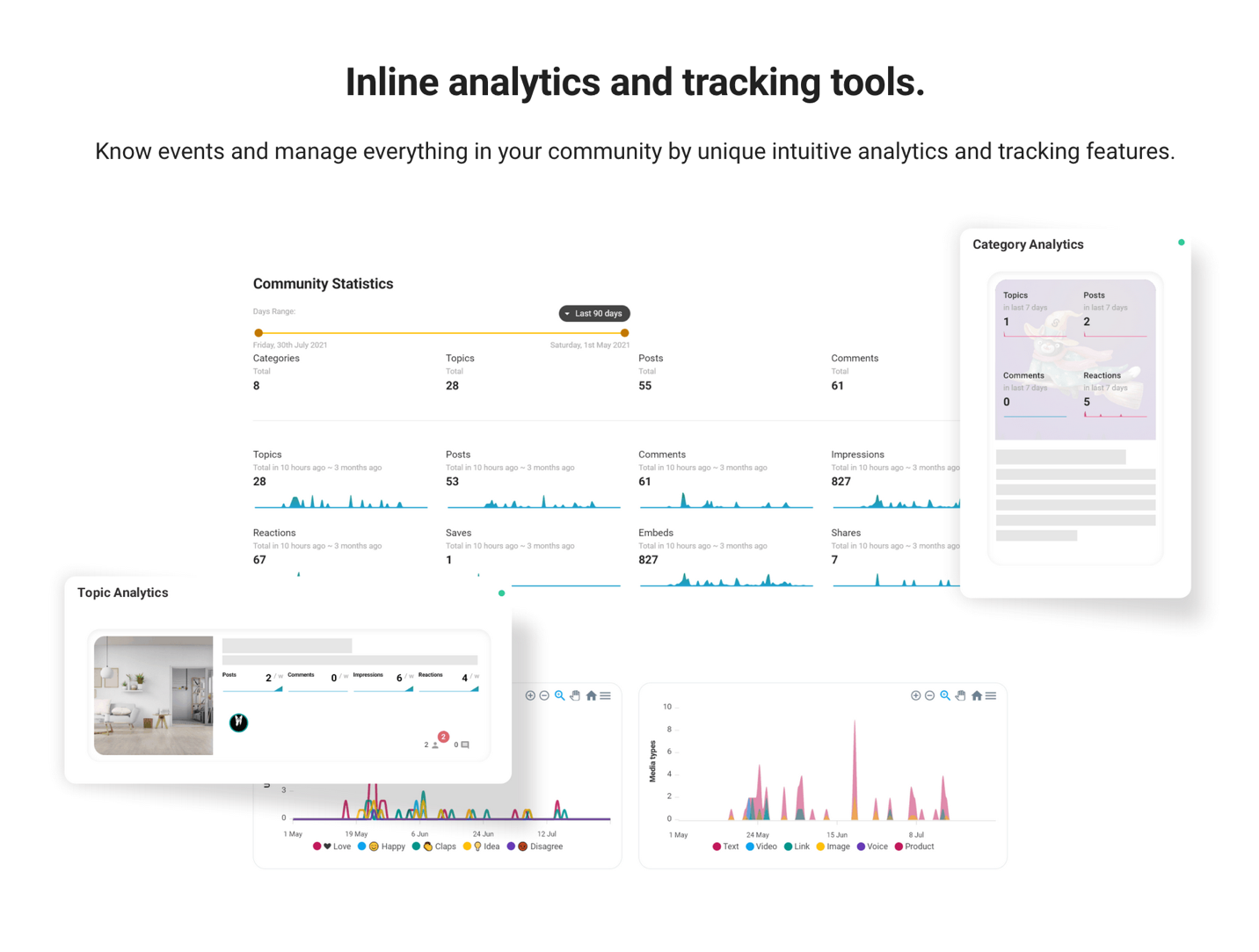 Be a pioneer in the market to gain more gems!
Whether you are a retailer of shoes and sports equipment, or a business in the field of real estate consulting, robotics rehabilitation, legal advice, medical equipment, e-magazines, and any other business, today is your time to enjoy the benefits of a dedicated social network for your business or even your personal brand.