How To Make a Hand Painting Shoes Online Shop?
Posted on September 28, 2021
Today a lot of teenagers and young souls are eager to opt and buy unique things. Hand painting on shoes is a great idea where the shoes are designed and printed by some artists, all done by hand. It should be noted that the process of hand painting on shoes is an art that requires hard work and talent and the ones who are indulged in the process of hand painting on shoes for selling are real artists who try to be different.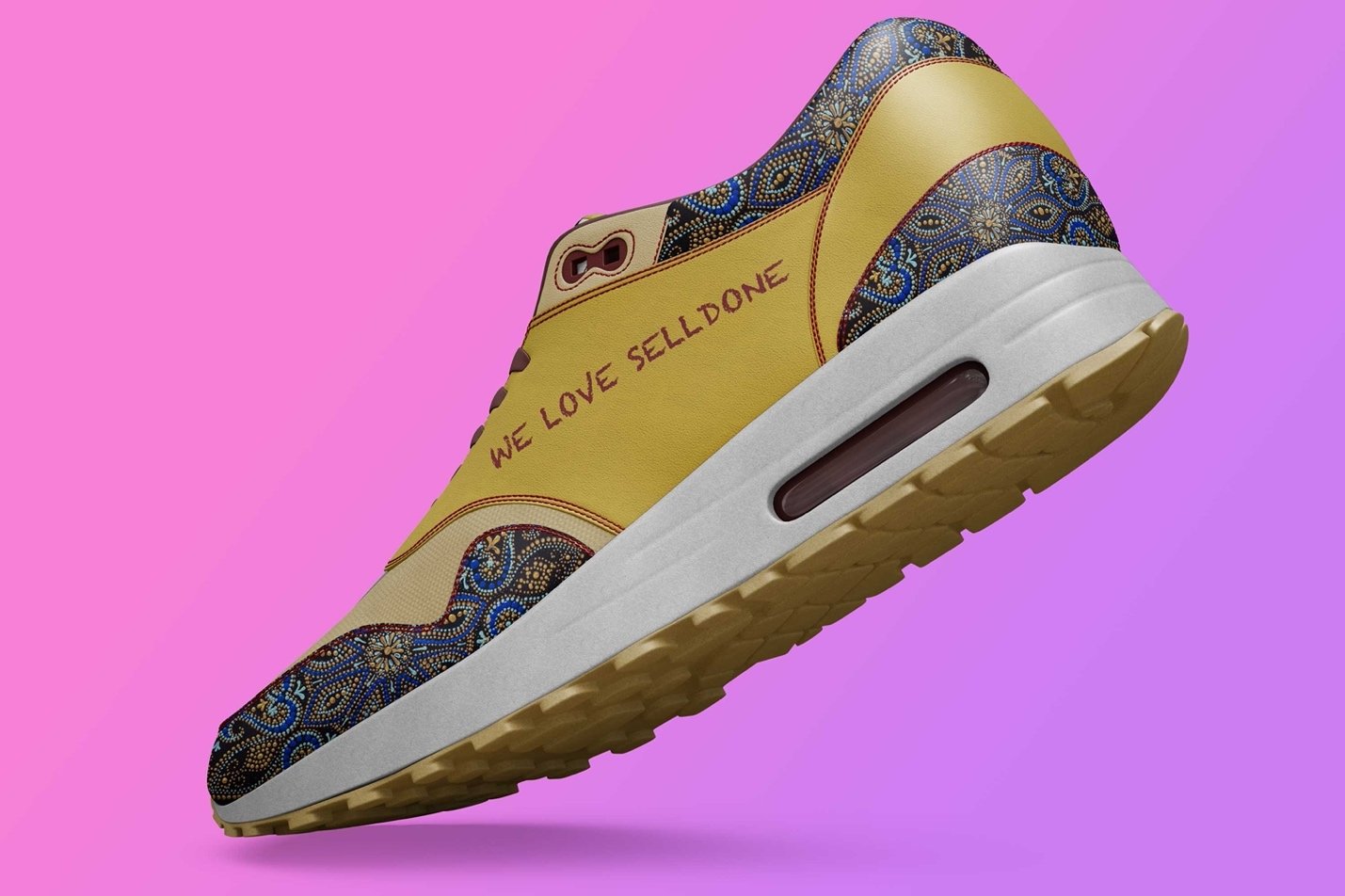 Hand painting on shoes is an idea that uses a lot of time, talent, and even energy, and this means when we buy hand-painted shoes, we don't buy a pair of shoes; we buy talent, hard work, and even dedication. Different designs and drawings can be drawn on the shoes, and even some artists take orders to draw the exact image the client desires. This process helps in getting the full happiness and satisfaction of the client. Let us read further about hand painting on shoes for selling purposes and encourage those who are indulged in the process.
Hand Painted Shoes Got Famous and Got a Foothold
According to some observers, hand-painted shoes are gaining the title of the folk art of the 80s. The painting on the shoes is a great idea for selling, and it can be due to the fact that each idea painted on the shoes is unique and original. Young people, especially the generation that belongs to the 21st century, love unique and stylish designs on shoes, and they are considered to be one of the main customers of the hand painting on shoes. Occasionally the hand painting on the shoes has gained more importance even in the traditional departments and stores.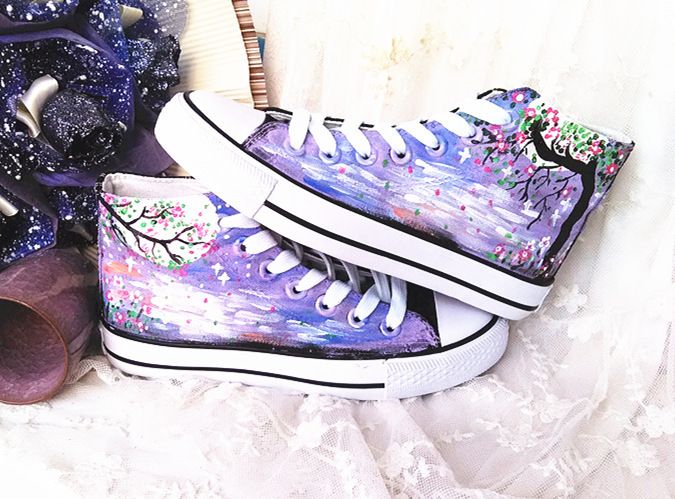 Long Beach is one of the great hand painters on shoes, and he has done his last work during the era of the promotion in different Southern California shops and stores. On the other hand, Ronna Roberts did her initial painting on shoes for selling about a year ago as soon as she returned from her vacation in Miami. According to her, while she was enjoying her vacation, she noticed a lot of beautiful and eye-catching clothes and shoes that made her very impressed. Soon as she was back from the vacation, she had an urge and desire to have one hand-painted shoe for herself and made her first-hand painting on shoes to match her colorful clothes. She added that she made one for herself, and this was the start of her work as the hand-painted shoes gained attention and were demanded later.
Today her company of hand painting on shoes for selling turns more than 500 shoes that are hand-painted per week and sell them each for about $40. Isn't it an excellent idea for fetching a good income? On the other hand, many retailers started searching for artists to get started with hand painting on shoes for sleeping purposes as they realized this field would fetch them a lot of profit. One of them is the owner of the Beverly Hills Orson Mozes. According to him, there is a recent craze and demand for hand-painted shoes in the market.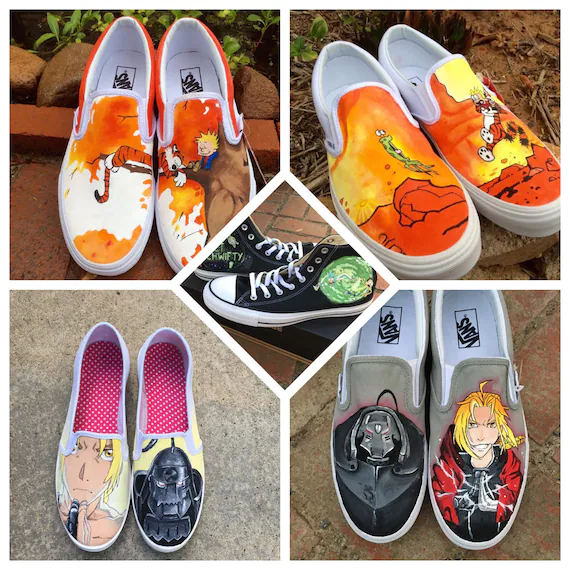 Advantages of the Hand Painting on Shoes for Selling Purpose
The process of hand painting on shoes has different advantages for the artists as well. Some of the main benefits are:
Hand painting on shoes is an excellent start for artists.
It can help the artist earn well and get engaged with the work he likes a lot, which is designing and painting.
Hand painting on shoes helps and encourages the youth to value the hard work and the talent of the artists behind the design by purchasing them.
For a start, you do not need a prominent place or an office to start with the painting work; you can start small from home and then grow bigger.
It is a talent that helps the artist showcase his abilities and speak with his drawings on the shoes.

More About the Hand Painted Shoes
Colorful shoes can draw attention and catch the eyes, and it is even getting popular in the fashion runways and the famous feet. Many artists are now engaged in this field, seeing the success and the well-earned profit of those who started this work earlier. Professionally looking at this talent, we can say that Blake Barash started hand painting on the shoes for selling purposes professionally in the year 2010. The style narrated and described by him was mainly the street style, and to our great surprise, he is running a very successful website store for hand-painted shoes along with a Selldone online shop maker. According to his words, the demand for his hand-painted shoes has increased rapidly in three years, and attributes are all thanks to the word-of-mouth marketing process.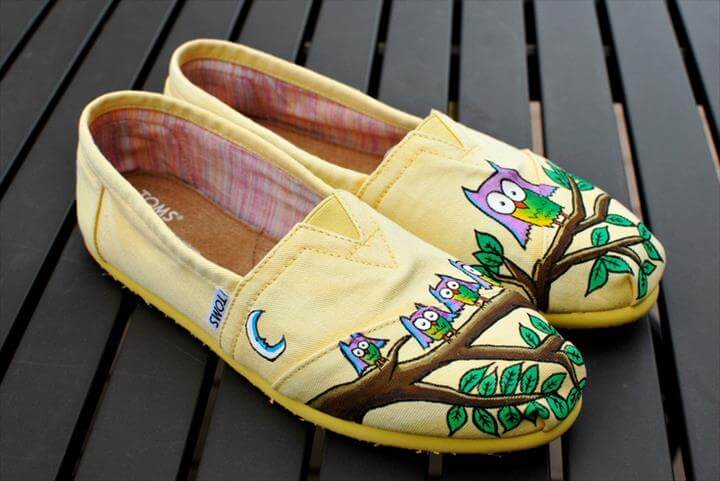 Most Frequently Asked Question About the Painting on Shoes
Many people wonder how someone can paint on shoes and how the painting never fades away?
It should be added that painting on canvas is easier for those who are fine with brush and paints. Apart from the canvas, you can even paint any design on leather, mesh and last but not least on vinyl shoes for selling. If you are a fresher who desires to get in the line of painting on the shoes, you should start knowing the types of materials that will be good for the shoes you are planning to paint on. The best colors to use in the process of painting seriously matters the least. Shoes are 90% paintable apart from their soles. If you are planning to start with the canvas and mesh, then it is a great idea to combine paint as well as soft fabric for the best results. This is precisely what the artists use today for the best results in their work.
Planning the Design of the Shoes for Painting Purpose
Planning as to what design should you start painting on the shoes is often time-consuming as, during this time, we simply want to make the shoes very attractive, and we tend to get confused and stressed.
If you can paint the shoes on a flat surface, it is better for you as you will get the hold of the shoe better. Start simple and small. You do not have to think about a significant and very confusing design. It is better to start with simple and small designs at first and then make it bigger and better once you are comfortable with the painting process. You may be a great artist but painting on paper and shoes is different, so better to start small and go slow.
Picking solid designs initially is an excellent idea for starters as you need time to get used to minor designs and multi-color designs. So start with single designs, get used to the brush and the paint on shoes, and move ahead with big ones. Go slow initially and then go Da Vinci on your second or third canvas easily. Before starting directly on the shoes, it is good to think, plan, and draw the design on paper first. This way, you will get hold of the design faster and easier. Use HB pencil for a better result. Last but not least, do not forget to protect the parts you do not require to paint, such as the soles with tape.
Today, many talented souls are out there who do not have a proper job because pandemic has hit the market and the jobs badly. Artists do not see boundaries, and they do not like limitations. Some start painting on shoes, some on plates and some on t-shirts. Earning a living today is not an easy task, and the artists who work hard to design and paint the shoes should be encouraged.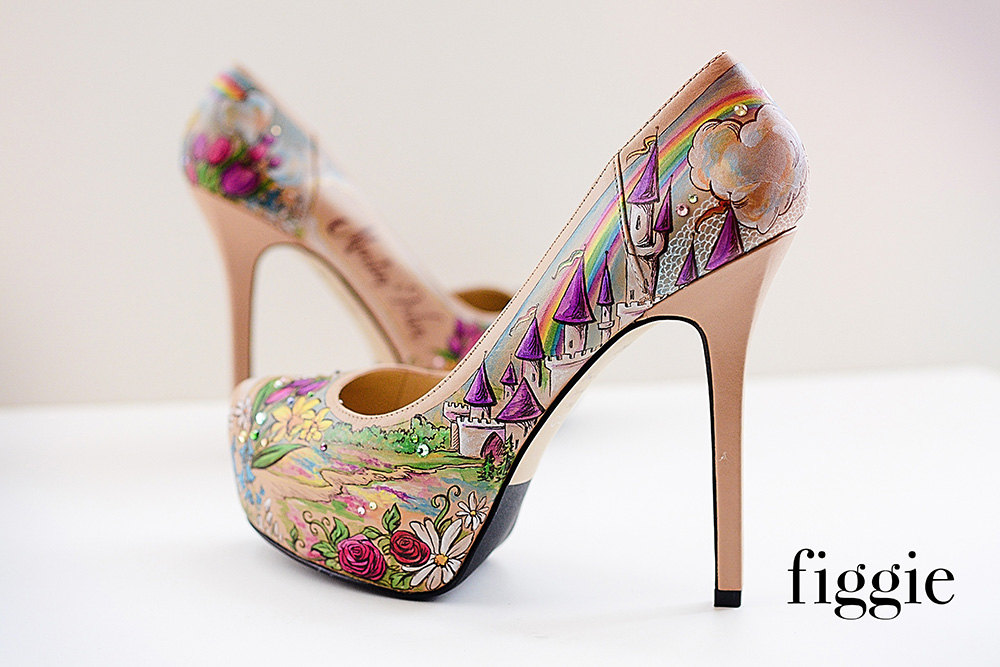 You can search the internet to get designs and even ideas for painting shoes for selling. Try to be unique, use your talent, and be different. Do not copy others as the clients highly demand original designs. If you are a started and are passionate about starting to paint, then see the related sites as to how you can begin to best and all materials you require. As mentioned earlier, create small and basic, not a complicated design at once.
Check the alternative materials available in the market, or you can even get in touch with people already in this field. It is never a bad idea to ask for a piece of advice from the ones who have experience in the area you desire. Last but not least, do not quit at first if you see the designs are not as you imagined. Practice makes a man perfect.
Make Your Business Online By The Best No—Technical Solution In The Market.
30 Day Money-Back Guarantee
Say goodbye to your low online sales rate!