Why Selldone? Democratize Commerce Access; Let's Deep Dive into Selldone Philosophy
Why Selldone? Trading has been one of the most fundamental human interactions, but access to trading tools is always challenging and unfair for many people. With the advent of e-commerce services, it became possible to trade and access online trading tools cheaper and faster than before, but there was still a gap in people's trading tools access. Maybe a few thousand dollars to hire a specialist to set up an online store and a few hundred dollars for the monthly subscription fee for an e-commerce platform and its plugins may not be a big challenge for the people with the highest level of welfare and capital access. However, a majority can still not afford such a cost to develop their business. Why? Because $200 is greater than the average monthly income of people in large parts of the world such as India, Nigeria, Kenya, Iran, Cameroon, Cambodia, Sudan, Afghanistan, Bangladesh and ...!
Notion, Mission, and Philosophy
Selldone mission and philosophy are to provide access to trading tools for all people of the world with any knowledge, financial ability, and experience. This attitude is the growth of SMEs across the globe and can shorten the supply and retail chain and increase the profits of major producers of products and services.

But how? Let's deep dive into Selldone philosophy

The easiest way to have an online store for a person right now is to use the Shopify or Wix platform! To have e-commerce on these platforms, you do not need to set up and buy a server or have a high level of technical knowledge. Merchants register, build stores, hire a specialist to make configurations for them, purchase and install a series of plugins and apps for their store, select or purchase a template, and make these together and add products. Well, this is the process that Shopify customers go through. But the question we asked was, is this the most straightforward possible zero-to-sell way? To be more precise, is this the best path that most people can take to sell their products online?!

Our selling experience in developing countries in West Asia and the Middle East has shown us that complexity is not the only issue! Instead, one of the major obstacles is the high-cost process to set up and high subscription fees by these services. Also, there is a need to purchase several apps and sometimes hire an expert to configure and deal with the complexities of these services. It is interesting to make sense of this issue; for example, consider $50 per month and $1,000 to set up an online shop and purchases theme and plugins for most people in a developing country or a small business in a garage is a huge deal! In the country we came from, the cost of setting up a site with Shopify is more than many times the minimum wage!

We provided a complete sales service including sales channels, order processing, delivery system, cash register, payment service, dropshipping, page builder, email marketing tools, and everything a salesperson needed to overcome the making-path of zero-to-commerce and branding.
Design a commerce system with breakdown into basic elements
We decomposed an e-commerce platform to its most elements that possible. If you want to build the cheapest spacecraft, like SpaceX, first decompose it into essential components such as constituent metals, carbon fiber, and so on. Good; What you get is probably less than 5% of the cost of the final ready0in-market rockets! In the process, we eliminated the cost of programmers, marketing, ads, and the cost of licensing 3rd services. At this stage, you will reach the most basic costs possible! That means we knew precisely how the system worked, and we had a genius team to design the system. We knew that we could make cost-reduction by 95%, but we had to make everything from 0, that is, from page builder to CMS and article editor to tax calculation system and everything else ...! But we still haven't a line of code! We designed an e-commerce platform as a system to make it easier and cheaper even after implementation! Because we were not supposed to build Shopify2 at last! We were going to make something that solves the main problem: simple, hassle-free human-based trading tools that can be fitted to the spirit of each brand. In the meantime, we made many changes in the service design, but our most significant change was: we removed the whole old fashion website-building-pathway of creating and choosing the template from the system! We did not reduce it! We did not change it! We eradicated it! The next big fundamental attitude was that the system had to be 100% API-based, and developers could easily do anything with it in all layers. The next important thing in Selldone's DNA was that a salesperson could have all the tools needed to sell up to $ 100,000 a month without buying and installing any apps or plugins in their online store. And the last significant change is that our UI should have the fewest nested menus. That means every point of the dashboard had to be accessible through a menu! When we got to this point and introduced the demo of the design to the Instagram sellers, we knew, Boom! Everyone fell in love with it! Even their friends were telling us where we should register on your site. It is where product design and programming began. We had the new system on paper, something that even the team programmers worked on for months; I don't know how many companies and projects have worked like this before! But with a small and agile team, we built the whole system quickly with great features.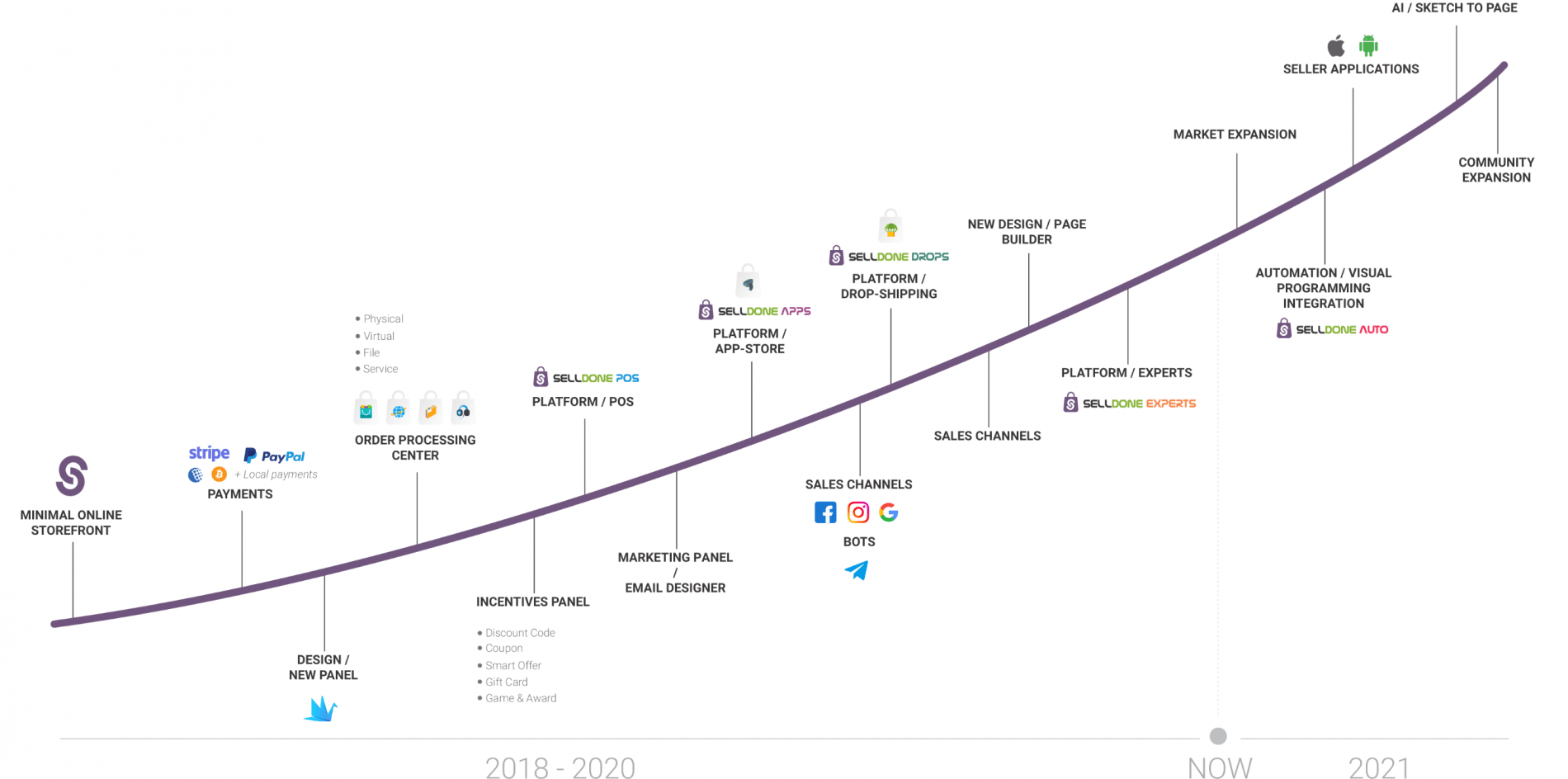 From our previous experiences, we knew that we needed two things:

1- it would take time to reach a product-market fit.

2- the competition in this field is bloody, and the cost of advertising is very high!

Our competitors are wealthy, and we can't enter the same advertising channels and market side. As a result, Selldone designed with a crystal-clear market prospect from the beginning:

1- In developing countries, Instagram has a significant sales channel;

2- These sellers have their customers and a large number of followers;

3- They need to use a service that is as simple as Instagram.

Our competition strategy with billion-dollar companies is building a community by providing valuable tools and access to people who have their own communities; by a great value proposition ​​that can attract members of those communities, this process will eventually build a vast community. For example, suppose our path to the manager of a shoe store is through a homemade candy seller on Instagram, who made his online store in Selldone and that shoe store manager buys from her. Privacy is in the DNA of Selldone; our primary sales channel will be the community, not by advertising or selling our users' privacy.
Why not profit-making-attitude investments?!
This is not a theory or fantasy for a better future! All these tools are made as you read this article! To achieve this, we need to find investors who believe in this policy beyond money and profit-making-attitude, which certainly severely limits our access to capital. Because playing with investors in a land where profit-making is not the goal is almost impossible, and on the other hand, attracting capital from VCs has put us in a profit-making competition, which increases costs and enters us into the game of large companies that is so far. For these reasons, our focus is on community development and raising capital through this community and our success merchants, not the government or VCs.